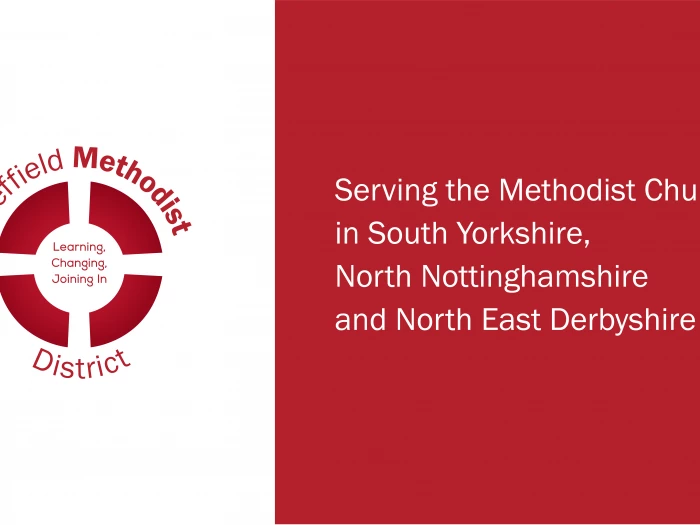 This Week's News
A prayer for half-term and 3Generate
Victoria Loveday, District Children and Youth Coordinator shares a prayer for half term and the up and coming 3Generate event.
https://youtu.be/Ifu6nWUbiTA
Lay Orientation Day
2 November, 10.00 – 3.30
Training for newly appointed lay employees working in a church context.
It is designed to give a better understanding of the role of church worker, both in general and in one's own setting.
The day's topics, and the opportunity to share together, will help develop a strong foundation of good practice.
Register here: https://211102layorientation.eventbrite.co.uk
The deadline to register is 28 October.
Transformational Leadership Learning Community
The transformational Leadership Learning Community is all about helping you change, your church or circuit change, and enabling the wider world change for the better.
If you have a desire for transformation in your circuit and you're wondering how to bring it about
If you are you looking to develop your leadership skills and those of your team
If you sense that change is afoot, and that you need some help to lead change well
Applications are now open for circuit or church teams looking to join from January 2022 click here for details
Our Peak Circuit started TLLC this year. Adrian Perry (revadrianperry@gmail.com) is happy to share their experience
Spiritual Growth and Transformation
A course to help you discover who you truly are in Christ so that you can become who you are called to be in creation.
This is an experiential rather than an academic course. It offers a process of prayer, listening and reflection through which participants are encouraged and enabled to draw closer to God. Through this, the transforming work of the Spirit deepens, gifts are revealed and a faithful response to the call of Christ can be made:
"And we....... are being transformed into his likeness" (2 Cor. 3:18)
The course is open to people of all denominations or none and stands alone, but also acts as Part 1 of the Art of Spiritual Accompaniment Course.
Full details can be found in the brochure here: STG 2022
The application form can be downloaded here: STG Application
Grants towards the cost of attending are available from the L&D Grant fund. More details here: L&G grants

The Suitcase
The Suitcase is a thought-provoking exhibition marking the monumental life change of the first-generation Pakistani women who came to Rotherham in the 1960s, capturing the memories they carried with them from home through stories, poetry, visual images and video.
Everyday objects the women brought with them will be on display from prayer mats, clay pots, bracelets and henna and photos of the family left behind, plus the letters that arrived from home as they navigated a new life.
Following a six-month closure due to the pandemic the exhibition re-opened at Wentworth Woodhouse in May before being transferred to Clifton Park Museum where it will run until 21 November 2021.
District Safeguarding update
YouTube video on the Advanced Safeguarding Module – Message from Pauline Jackson, BEH District Safeguarding Officer:
"The CSS Advanced Online module is being delivered across the Connexion and we as trainers rely on the feedback and completed evaluation forms from the delegates. This is to ensure that the course is fulfilling what we require of it. We always hope that this is the case and so receiving feedback is vitally important.
Together with Ann Howlett-Foster, I have been delivering the Advanced Module Gathered sessions for BEH District. We have had some great feedback on these sessions and one delegate in particular wanted to express just how much he enjoyed the entire course by making a YouTube video.
John Watson from West Herts and Borders Circuit is a musician and made this video following his successful completion of the course".
https://www.youtube.com/watch?v=6_MTvIsU1jg
Victim Support Safe Space Initiative – message from Kevin Maidment, Bristol District Safeguarding Officer:
"Safe Spaces is a free, national support service independently run by Victim Support. It provides a confidential, personal and safe space for anyone who has been abused through their relationship with either the Church of England or the Catholic Church of England and Wales".
Read about the initiative on the Victim Support Website: Safe Spaces on the Victim Support Website
The Safe Spaces website says: 'Although the churches have funded the service, it is run independently by the charity Victim Support, who are one of the leading charities providing specialist support to survivors of abuse in England and Wales.
If you have been affected, however long ago, Safe Spaces can provide you with support. You do not have to have told the police or the church authorities, and you do not have to still be involved with the church. Your information will not be shared without your consent unless you or someone else is in immediate danger.'
Link to the Safe Spaces Website: Safe Spaces England and wales – Safe Spaces England and wales
As ever, if you have any questions or concerns please give me a call on 07483 362 735 or email me at safeguarding@sheffieldmethodist.org
Many thanks
Alison Hill
District Safeguarding Officer.
Events
An introduction to Church at the Margins
Monday 8th November from 7-8.30pm (via Zoom)
Poverty across the UK is rising with a devastating impact on the lives of individuals and communities. How should we respond? What is God's invitation to us? This webinar offers an introduction to the vision and values of Church at the economic margins with stories from local practitioners in urban and rural contexts.
Hosted: by Eunice Attwood, Church at the Margins Officer and Sarah Hulme, Rural Officer.
REGISTER NOW: https://us02web.zoom.us/meeting/register/tZMvf-GoqD0tHNNqHWQlv-N6LI5KTxiWJBoe
Whirlow Spirituality Centre
Writing For Wellbeing: Finding Your Hidden Treasure
This guided therapeutic writing workshop on the theme of 'Hidden Treasure' will inspire creativity and build positive connections after a challenging year. Attend via Zoom on 3 November or in person on 6 November. Both led by Leonie Martin.
Details and bookings for the Zoom event are here.
Details and bookings for the 'in person' event are here.
Job Vacancies
Church Community Worker
Firth Park Methodist Church
Firth Park MethodistChurch is at an exciting moment in its development and is seeking to employ twoenthusiastic people to join the team to operate its Soft Play facility.
Thepurpose of the facility is to provide an essential service to the local communityand develop Fresh Expressions of church.
One person to be appointed to start November 2021 and one to start spring 2022.
The starting salarywill be £9.50 an hour contracted to 40 hours per month (with pension
provision).
For applications packs please contact:
Firth Park Methodist Church, 8 Stubbin Lane, Sheffield, S5 6QL, tel. 0114 2490674,
email firthparkmethodistchurch@gmail.com
For further information contact: Rev Mark Goodhand 0114 2420076
Closing date is 8th November 2021
Afterconsideration of their application, interviews will be arranged on anindividual basis as soon as possible.
A satisfactory Enhanced Disclosure from the DBS is required for this post. We arean equal opportunities employer but seek an individual sympathetic to theChristian faith.