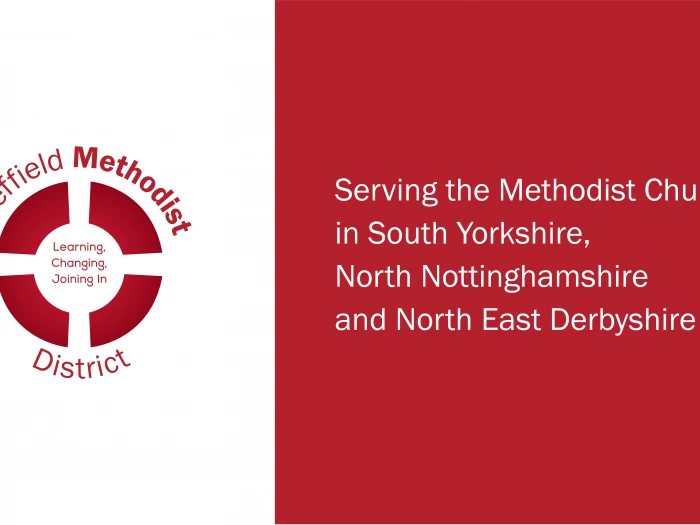 This Week's News
Correction to last week's news
The sharp eyed among you will have spotted last week's deliberate mistake. The Speaker at the April Synod was Tom Stuckey (not Starkey)
Office News
You may be aware that Katrin's father died at the start of the month. She very much appreciates the messages and prayers she has received at this time, and for your patience and understanding if things take a little longer than normal to process. The office will be closed next week and again from 2-3 September as she take some time off to be with her family.
God's planet : our responsibilities
A new lottery grants programme has launched for local organisations STARTING to respond to the climate crisis https://www.tnlcommunityfund.org.uk/funding/programmes/together-for-our-planet. Please contact Neil Harland mission@sheffieldmethodist.org if you are thinking of applying so we can all learn from each other's experiences.
The global climate crisis will affect all of our communities. What responsibilities does this place on our churches? What can we do as Christians, churches and circuits? What do we contribute to a national conversation?
Register to attend the September Synod to hear have some practical stories and advice, and theological underpinning of why we believe this is such an important subject for each of our churches : https://210911-synod.eventbrite.co.uk
This event is open to all!
District Safeguarding Briefing
Safeguarding Training Update
Advanced Safeguarding Module – online
At long last, I am now able to announce, that we will be running 11 Advanced Safeguarding training session in the coming months, as there is now the option to complete the course online. There will be further face-to-face sessions in the new year (2022), but if you are able to complete the Module online, please follow the link for dates, times and booking information: https://www.sheffieldmethodist.org/what-we-do/safeguarding/safer-recruitment.html
Foundation Module – face to face
As of the 1st August 2021, we have been given the all clear for face to face training sessions to resume. I'm sure your church or circuit will shortly be planning how and when to restart training so please look out in your usual local newsletters for local details.
As ever, if you have any questions or concerns please give me a call on 07483 362 735 or email me at safeguarding@sheffieldmethodist.org
Many thanks
Alison Hill
District Safeguarding Officer.
Pre Teen & Youth Worker from Wesley Hall appears live on BBC Radio Sheffield
You can listen again to Sean Biscoe, Pre Teen & Youth Worker at Wesley Hall, Crookes, Sheffield, who chatted live on BBC Radio Sheffield on Sunday morning.
He was talking about the youth club Drop Inn and how it had to adapt to the Covid-19 lockdown restrictions. Sean and a team of amazing volunteers have offered hot chocolate & icecream to around 100 young people each week during the pandemic and offered them a safe place to talk.
Sean also spoke about plans for the future including offering chances to talk about scripture and themes from the Bible as well as chances to meet with friends and take part in activities such as table football, table tennis & computer games.
Here's the link to the interview just fast forward to 2:42:00
https://www.bbc.co.uk/sounds/play/p09qrgwl
Urban Theology Union
Certificate in Theology and Discipleship for Mission
The Certificate in Theology and Discipleship for Mission is designed specifically for people who are at a point where they are beginning to ask 'Lord, what next?' about their life journey. It is a unique course that helps people discern their own discipleship journey for mission (whether evangelism, and/or service and/or prophetic action.)
For some it has been their first toe-dip into theology beyond listening to sermons, others have already got MAs in related subjects but have found the opportunity to integrate that learning into their lives, very valuable.
It is based around input on spirituality, discipleship, Biblical Study, mission, evangelism as well as theology, with the aim of people discerning and exploring what new or renewed mission activity they want to engage with for the next year or so.
Please take a look at the flyer, get in touch to discuss the course or just take the plunge and fill in the registration form!
UTU CTDM 21-22 Course Information
UTU CTDM Registration Form 2021-22
Events
Changing Climate, Eternal Summons
hearing God's call in the midst of a global emergency at Whirlow Spirituality Centre
Wed 29 Sep 2021 10:00 AM – 12:30
As wild fires and floods rage across the globe, many of us feel like helpless onlookers, wondering "Where is God in midst of this crisis?"
We might feel anxious, overwhelmed, guilty, despairing – or perhaps empowered yet hesitant about whether and how we can make a significant difference.
This £20 morning workshop, led by Jo Musker-Sherwood, takes place a month before the UN's climate change conference in Glasgow. It will be an opportunity to explore experiences of and feelings about the state of the planet and to discern the place to which God might be calling us. It will seek to draw from the depths of our faith to find the courage needed to respond to this urgent call.
Follow the booking link here.
3Generate – District support
Tickets for 3Generate 2021, the national Methodist children & youth assembly on 29-31 October, are now on sale: https://www.methodist.org.uk/our-work/children-youth-family-ministry/events-including-3generate/3generate/
We are delighted to already have 19 young people from Sheffield Circuit signed up and Sheffield District will pay for coach travel.
Please get in touch with Jonathan Buckley (jonathan.buckley@sheffieldcircuit.org.uk) or Neil Harland (mission@sheffieldmethodist.org) if you are considering taking a group.
Regional Retreats
Wealth and Povertyin Art and Faith led by Debbie Lewer at The Briery, Ilkley
16-18 November 2021
Art is rich with symbolic traditions for expressing visually power and authority. It can alsoreveal profound value in the most impoverished material and the most desolatingexperiences. On this retreat we will explore a wide range of visual art, oldand new, to open up some of the theological implications of what we value andwhere we find wealth. This is an opportunity to engage with creative ways ofseeing and to reflect on our theological 'images' as people of faith today.
The Yorkshire Plus region of the Learning Network organises residentialretreats for Presbyters, Deacons and Lay Employees within the Methodist Church.These are subsidised for those stationed/working with the three Districts(Sheffield; Yorkshire North & East, and Yorkshire West) and priority willgo to those in active work. Supernumeraries and those outside the threeDistricts can apply for a place, but this cannot be guaranteed until 8 weeksbefore the date of the residential.
To register a place: https://yp21-11-16retreat.eventbrite.co.uk
Job Vacancies
Cliff College
Cliff is at an exciting place in its history as it is about to launch Vision 21, a strategy that takes the College on a journey to become a global centre of evangelism and mission. This builds on its tradition and history and focuses on the College as a place of engagement, encounter and equipping.
As part of this strategy, Cliff College is seeking to expand our learning innovation team to enhance the support of IT across the College and to play a key role in the development and implementation of online and hybrid learning opportunities. Working alongside existing team members, two new full-time posts: an IT Support Officer and a Media Content Producer will also contribute to the successful delivery of other projects, including the College's annual festival which has developed an online stream over the last two years.
More information, including a full jog description and application forms can be found here: Vacancies
News from other organisations
Action for Children
We need your District's help to urge MPs to make children a priority
We believe there's a star in every child.
It's their boundless energy – their curiosity, personality and imagination. It's the qualities that make them who they are.
When a child has the safe and happy childhood they deserve, their star shines brightly. But too many children in the UK right now don't have thechance to shine.
Their childhoods are overshadowed by poverty, abuse, neglect and poor mental health. And the pandemic has only made things worse.
Our elected politicians can change this.
Craftivism for change
To stand out from the hundreds of emails and letters MPs get each day, we're asking supporters to send a message in the form of a star that theymake themselves.
We'd love to get as many Methodists involved as possible.
More information to follow!
Methodist News
TMCP District Data Champions Forum 2 – Video Available
The second District Data Champion Forum focused on the Consent Form and the Privacy and Electronic Communications Regulations (PECR) 2003.
Please click here to access the recording of the presentation which takes you through the consent form, how PECR runs alongside the Data Protection Act 2018 and how the regulations are applied. In particular, the presentation discusses the different forms and definitions of "Direct Marketing" and what Managing Trustees can and cannot do when sending out any form of electronic communication.
If you have any questions or concerns over GDPR – please contact Katrin, the District Data Champion in the first instance. She will also be running some more training sessions in the new year.