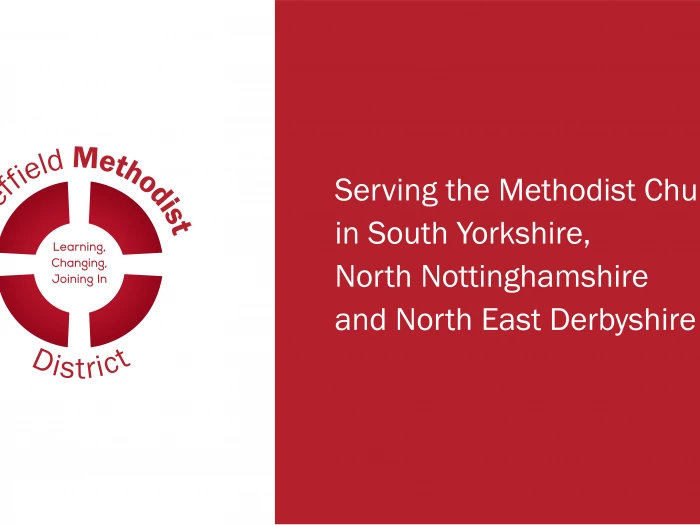 This Week's News
3Generate
Young people & leaders from around the District had a great time at this years 3Generate learning how to be more in tune with God, themselves and their family and friends. Elections for the next 3Gen reps opens on Monday 22nd November. Watch out for further information.
John Peacock
The service of Thanksgiving was held at Wisewood Methodist Church at 12 noon on Friday 12th November. Due to restrictions at Wisewood, the capacity of 70, for the service of Thanksgiving, was quickly reached by family, friends and those from Wisewood, Hillsborough Trinity and Brightholmlee. However, a recording of the service is available to view online.
https://www.vidigimedia.com/davidpeacock
District Safeguarding Update
Recognition of Church of England safeguarding training
For many years there has been a reciprocal arrangement between the Methodist Church and the Church of England to recognise each other's safeguarding training.
Foundation Module (FM)
The Church of England FM training is now totally online, with no face to face interaction, whilst the Safeguarding Committee decided that the Methodist FM training should include some online face to face interaction. However, it has been agreed that the reciprocal arrangement for FM training will continue.
Advanced Module (AM)
The Church of England updated their AM training in April 2021 and has also moved away from the Methodist training in format and content. Unfortunately, this means the reciprocal agreement at Advanced Module level is no longer possible. This decision is a recent development and the full implications, particularly for those in LEPs, will need to be addressed on a case by case basis until the Methodist AM is renewed in 2023
As ever, if you have any questions or concerns please give me a call on 07483 362 735 or email me at safeguarding@sheffieldmethodist.org
Many thanks
Alison Hill
District Safeguarding Officer.
Events
Whirlow Spirituality Centre
Advent stillness and silence
We look forward to a season of space, germination and anticipation
Seasonal Quiet Days, services, times for Reflection or Prayer and more.
See our programme here
MWIB Sheffield District Christmas Carols/ Lunch
Friday 10th December at Frecheville Methodist Church
(Churchdale Road, S12 4XW. Bus service 120 from Sheffield)
Carols at 11am in the Church followed by lunch in the Hall. All are welcome. Cost: £12
To book contact Carol Wignell
Tel: 01246 433216
Email: carol.wignell@btinternet.com
Transformational Leadership Learning Community
It can be challenging to think about the future given the struggles we have experienced in the last couple of years. We know it's been a tough and exhausting season for many leading our churches.
We also know that discerning the fingerprint of God at work in our communities, focussing on great team work, and having a strategy in place to outwork Spirit-inspired plans is one of the best ways of leading the church into growth. If you sense now is the time to look to the future and develop action plans then the God for All Transformational Leadership Learning Community (TLLC) is designed to encourage and support your church or circuit. Details about the TLLC can be found here:
The closing date for applications for next year is 30 November 2021.
If you would like further information about the TLLC, or talk to Nigel who facilitates the Learning Community, do drop him a line or give him a call: pimlottn@methodistchurch.org.uk 07799 900468
Job Vacancies
Communications Worker
Who Is Your Neighbour? works with people to explore difficult issues about race, culture, identity and migration, helping communities become more resilient in dealing with difference. We work primarily in South Yorkshire and are starting to build a national presence.
We are looking for a Communications Worker to implement our Communications Strategy and keep it under constant review.
establish a strong digital presence to support all areas of work and income generating activity.
develop a strategy for the dissemination of alternative narratives which challenge the negative perception of diversity prevalent in some communities
work with the staff team to oversee the operation of our external and internal communications
support the staff team to develop ways of delivering activity in the online space.
Hours: 2 days/week, 14 hours.
We are currently working remotely. Occasional travel to South Yorkshire will be required.
Salary: £ 31,044 pro rata (ie £12,418),
The post is a permanent contract subject to funding which is currently secured up to December 2022.
Deadline for applications 19th November 2021
Interviews will be on Zoom 7th December 2021
Please note CVs will not be considered
For further information including an application pack please contact
team@whoisyourneighbour.org.uk
Other News
Action for Children
Hello from Action for Children!
We are only a few weeks away from Christmas! Thank you for your prayers and support throughout 2021. I pray you and your loved ones have a great Christmas.
Here are a few updates on our work.
Action for Children at 3Generate
Action for Children collaborated with a Methodist youth worker and youth representatives to provide a Health and Wellbeing Centre at 3Generate. They also ran workshops.
It was an absolute pleasure and staff thoroughly enjoyed the conference. They would like to thank everyone who stopped by to say hello and show their support.
Be a Secret Santa for a vulnerable child
For most of us the festive season is a happy time. But there are children all over the UK who face Christmas without food, warmth or love. Action for Children is doing everything they can to change this – and they need your help right now.
Please be a Secret Santa for a vulnerable child. Visit iamsanta.org.uk.uk/Methodist to give a virtual gift or dedicate a gift to a loved one. Thank you!
Parenting through the pandemic report
Action for Children has published a report on the experiences of parents during the pandemic. It showed that the pandemic exacerbated the challenges facing parents and that too many struggle to get the support they need.
The charity will use this research to start conversations with government officials and MPs about parenting support.
To read the report, visit: https://bit.ly/Parent-Pandemic
TMCP News
Natasha's Law and the Need to Keep Everyone Safe
The Food Information (Amendment) (England) Regulations 2019 (known as "Natasha's Law") came into effect from 1 October 2021 in England and Wales. Natasha's Law is named in memory of Natasha Ednan-Laperouse who died in July 2016 following an allergic reaction to a prepacked sandwich bought from Pret-A-Manger.
Read more