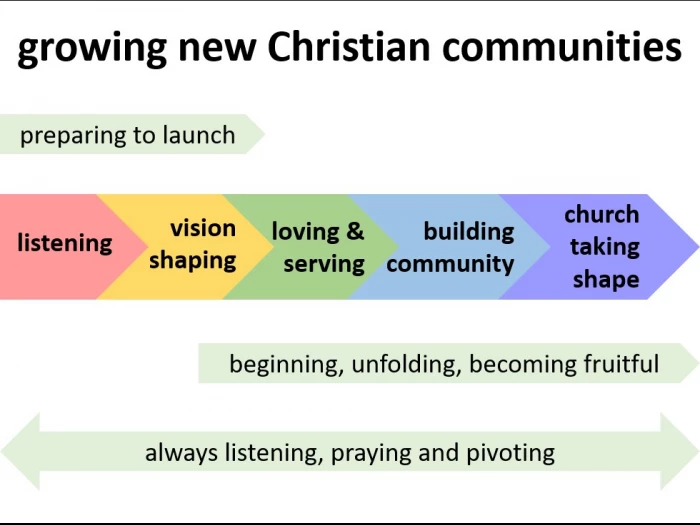 We can't give a complete template for starting new Christian communities, as each one will be a unique organic blend of local contexts, passions, gifts and relationships. But we do strongly recommend
SUPPORT HOLY DISCONTENT
Is there someone in your church frustrated by the status quo and with an energising passion for a particular group of people? How can you help them explore this? If this is you, who could you speak with to help you clarify this instinct?
BUILD A TEAM
New communities are far more likely to be sustained if from the beginning they are led by an engaged and mutually supportive team. Your team does not need to be large but needs a good balance of skills and expertise, and time to be actively involved in implementation. Meet regularly, model community, pray together. Be church from the start.
START BY LISTENING
Listen to the network/ neighbourhood you feel called to, listen to God, listen to each other. Hold listening events and 1:1 conversations. Expect to spend months doing this. Let this refine your vision.
EARN TRUST
Show God's love for the people you wish to reach. Create regular opportunities to build community.
GROW DISCIPLES
Be intentional about helping people start and continue journeys of faith and deepening discipleship. Understand what worshipping, learning, sharing stories, serving and declaring belonging might look like in your new Christian community.
LEARN AND ADAPT
Whatever your previous experience or training you won't know everything from the start. Expect to learn as you go, responding to changing circumstances, reflecting on experiments, and reacting to what God is unveiling. Expect your new Christian community not to look like any other church.
PRAY WITH STAKEHOLDERS
Who will your team need blessing and support from? Who is praying for you and for them? How often do you communicate? Maintain open honest dialogue.
PLAN SUSTAINABILITY
How will your new Christian community sustain itself for the long term? Growing new leaders, deepening discipleship, paying the bills? One day ceasing to rely on you? Answers to these questions should inform your beginnings.
UNIQUE METHODIST CONTRIBUTION
Agree your values. Reach consensus as a team about what your Christian community will and won't stand for and what flourishing looks like. Become comfortable to regularly name and live by what makes your approach distinctive.
The Connexional Evangelism and Growth team have prepared an excellent New Places for New People Guide to help you explore these questions and more.