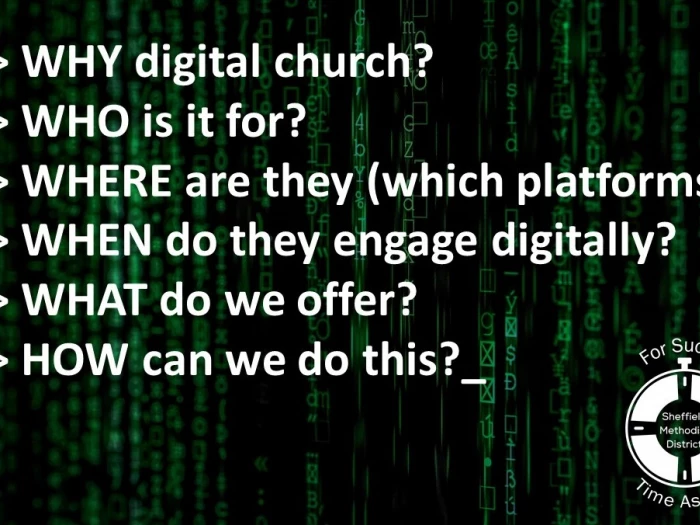 The coronavirus pandemic led to an explosion of digital experimentation and adaption. Some transferring existing church to Zoom or emailed/ printed materials – some translation into new formats – some transformation into entirely new models.

With few official experts and no training manual we have each discovered different responses for our own contexts. Lots of midnight oil was burnt in the process. Mistakes were made along the way. But lifelines were provided to a world in turmoil. And, as the world keeps turning, many of our circuits, churches and people now wrestle with newfound digital possibilities alongside analogue church.

If you are exploring "what next" for church expressions of church, these notes won't give you all the answers, but answering these questions should clarify your next step forward.
WHY digital church?

Are you looking to connect people who are geographically dispersed? Is digital an inclusion tool for people unable to travel to your building? Are you creating a digital/gathered blend to resource 24/7 discipleship? Are you starting an entirely new congregation? Are you primarily seeking to engage existing members more deeply or reach out to new people? How do people in your church naturally engage in a digital world? Are there people in your church with latent expertise?
WHO is it for?

A youth club will engage different people to a toddler group. City centres are not the same as village greens. There is a digital dimension to each of our lives, to greater or lesser extent, but there are people with very different lived experiences interacting with different digital media for different reasons. In a global digital village, what specific missional furrow are you called to plough?

Can you paint a picture of people your digital church hopes to engage with? What existing point of connection do you have with these people? Do they live near your members? Do they have shared interests? Do you already know people through existing gathered activities who are active online?

Whilst your WHO may evolve, the clearer you can be at the start the more likely your digital church is to flourish.
WHERE are they (which platforms)?

If your church premises are situated next door to a primary school you may have some idea where to go to engage with children and families. Similarly the digital world operates through many diverse networks and platforms, each of which has its own characteristics and inhabitants. Once we understand our WHY and WHO we need to ask where they spend time. Don't expect young people from your uniformed organisations to be on Facebook, but their grandparents probably are.

Some places are naturally suited to personal conversation (WhatsApp, Zoom, Messenger, email), some to public correspondence (Facebook, Instagram, Twitter, TikTok), some to mass broadcasts (YouTube, twitch).
WHEN do they engage digitally?

Whilst most of us interact digitally, we are not all online all the time. Some platforms prioritise content at the moment it is shared. Some conversations rely on people being available to offer contributions at the same time. Rhythm and reliability can generate belonging and community.

Once you understand WHY you are creating digital church, WHO it is for and WHERE they live digitally, ask WHEN is a good time for them. Parents of sporty children are likely to be poolside or on the touchline on Sunday mornings. There are good reasons why youth clubs are rarely first thing in the morning and toddler groups tend not to be late in the evening.
WHAT do we offer?

A flourishing analogue church will have a healthy balance of worship, faith development, pastoral care, social action and faith sharing activities. Does your digital church also offer this balance in appropriate ways? Thinking about your WHO, how could the WHERE and WHEN of their digital experience facilitate each of these components? How can you do this in a way you can sustain? Can you do some elements in partnership with other churches?

Or do we sometimes default to only those aspects which are most easy to transfer online?

If reaching out to new people, what reason do we offer for them to want to engage with and decide to trust us to the point where we can meaningfully dialogue about faith?
HOW can I do this?

Don't panic. God calls where God equips. Start small and focused, using the gifts and relationships within your church. Don't feel under pressure to keep up with or mimic other churches.

There is some excellent emerging practice across our district and beyond, but we live in changing environment and are all learning on the job. There are more resources on our website, but also feel free to contact Sam Roberts, Communications Officer comms@sheffieldmethodist.org or Neil Harland, Mission Enabler mission@sheffieldmethodist.org