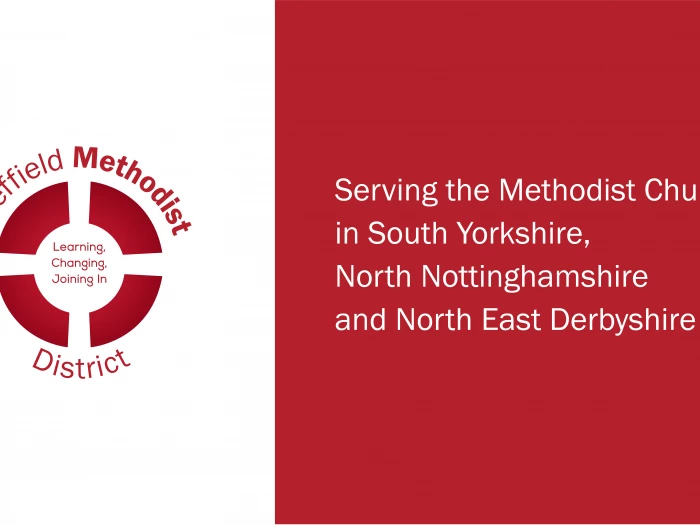 This Week's News
Sad news
We have been informed of the death of the Revd Neil Drayton. Revd Drayton was minster at Clifton in the Rotherham Circuit for many years, and so may be be remembered by some in the District. We hold his family in our prayers.
Synod
God's planet : our responsibilities – Saturday 11 September
How your church can respond to the climate crisis

When our representative synod next meets on Saturday 11 September we will focus on what we need to, and share ideas for what we can, do as Christians, churches and circuits in response to the climate crisis. We would love to have people from every church in the district join us, whether members of synod or not, because global warming will affect each of our communities. Keynote address from Canon Nick Jowett (former minister at St Andrew's Psalter Lane Church, Sheffield) plus TED talks and panel discussion.

To help us finalise logistics in an evolving Covid context, please fill in this brief form if you are interested in attending on Zoom or for a physically gathered event
https://forms.gle/mqjYdaH3hQMHxwTe7
3Generate – District support
Tickets for 3Generate 2021, the national Methodist children & youth assembly on 29-31 October, are now on sale: https://www.methodist.org.uk/our-work/children-youth-family-ministry/events-including-3generate/3generate/
We are delighted to already have 19 young people from Sheffield Circuit signed up and Sheffield District will pay for coach travel.
Please get in touch with Jonathan Buckley (jonathan.buckley@sheffieldcircuit.org.uk) or Neil Harland (mission@sheffieldmethodist.org) if you are considering taking a group.
District Safeguarding Update
Updated Retention Schedule and other new Data Protection Resources – June 2021 -Trustees for Methodist Church Purposes (tmcp.org.uk)
Taken from the Connexional Safeguarding Bulletin, July 2021
Managing Trustees are advised that there are now 4 new data protection resources available to them on TMCP's website :
(1) Updated Document Retention Schedule for Managing Trustees
The revised Retention Schedule is intended to provide some brief practical notes and guidance for Ministers, church officers, church & circuit safeguarding officers and volunteer archivists who are involved in managing records on behalf of Local Churches, Circuits and Districts.
(2) The Annual Checklist in a shortened Word version
(3) Guest Wi-Fi Acceptable Use Policy.
TMCP has been working with the Connexional team on producing an Acceptable Use Policy (Policy) for guests using Church Wi-Fi. This is available to download from the Safeguarding Forms section of the Methodist Church Website. The Policy should be displayed or be accessible to guest users by means of a prominent hyperlink before the user gains access to the Wi-Fi network.
(4) Zoom Guidance
New guidance has been produced by the Connexional Team as part of the Digital Communication Guidance for Churches.
As ever, if you have any questions or concerns please give me a call on 07483 362 735 or email me at safeguarding@sheffieldmethodist.org
Many thanks
Alison Hill
District Safeguarding Officer.
Young Christian Climate Network Relay – in Sheffield
We are an action-focused community of young Christians in the UK aged 18-30, choosing to follow Jesus in the pursuit of climate justice.
Come and join us as we walk to Glasgow together! #RiseToTheMoment
Although this relay is organised by young adults, we welcome and encourage participants of any age.
On Sunday 5th September we're walking from Chesterfield to Sheffield via Dronfield. There'll be a service at Sheffield Cathedral at 4pm on the Sunday, and possibly a follow up event – we're not sure just yet when to ask the walkers to arrive. We'll then walk through the Peaks to Manchester, the planned overnight stops being Bamford, Chapel-en-le-Frith and Romiley.
If you are interested in taking part in this, visit the webiste: https://www.yccn.uk/ for more information.
Why not check out the route and walk part of the way with them?
Job Vacancies
Cliff College
Cliff is at an exciting place in its history as it is about to launch Vision 21, a strategy that takes the College on a journey to become a global centre of evangelism and mission. This builds on its tradition and history and focuses on the College as a place of engagement, encounter and equipping.
As part of this strategy, Cliff College is seeking to expand our learning innovation team to enhance the support of IT across the College and to play a key role in the development and implementation of online and hybrid learning opportunities. Working alongside existing team members, two new full-time posts: an IT Support Officer and a Media Content Producer will also contribute to the successful delivery of other projects, including the College's annual festival which has developed an online stream over the last two years.
More information, including a full jog description and application forms can be found here: Vacancies
Circuit Administrator
The Borders Mission Circuit is seeking to appoint a part time Circuit Administrator to work with the Circuit Leadership Team and report to the Superintendent Minister.
Could this be you? We're looking for someone who:
is well organised and able to support the Circuit Leadership Team.
has a knowledge of administrative procedures to ensure the smooth running of the Circuit office gained through experience and/or qualification.
is able to hold a clear, basic DBS certificate and will have, or is willing to complete, the Methodist training modules relating to safeguarding.
can be self-motivated, able to demonstrate strong interpersonal skills and work on their own initiative, within Methodist procedures.
communicates well verbally, and in writing, showing good skills in using modern technology (particularly having a knowledge of Microsoft applications).
can get around the circuit as required (for meetings etc.)
is able to work some evenings to attend meetings.
demonstrates experience in working with confidential and sensitive information.
For all of this, we offer:
a permanent role for 20 hours a week, mainly office based but with the possibility of homeworking.
office space based in the Circuit but may require some work at other Circuit locations.
a rate of pay of £10.30 per hour.
a holiday entitlement of 112 hours, which includes an allowance for Bank Holidays.
a contributory pension scheme offered through the Methodist Church.
travel expenses reimbursed for any necessary travel on Circuit business.
the opportunity for appropriate continuing professional development.

Interested? Then apply now!
For an application form see www.bordersmissioncircuit.org.uk
Closing Date for applications: 17th August 2021
Interview date: 24th August 2021
Chief Executive Officer – Lighthouse Homes
Lighthouse Homes is a Registered Charity with close links to Methodism and other local churches. It is a 113 bed Christian homeless project (men & women), offering safe homes in a number of Christian therapeutic communities, ranging from 2 to 35 beds, free from alcohol or drugs. These homes are spread across South Yorkshire and Derbyshire with over 30 committed staff, full and part-time. For further details see https://www.christianjobs.co.uk/jobs/lighthouse-homes/2630
Other News
Derbyshire Rural Chaplaincy
The Thought for the Month is brought to you by Alison Ball, Associate Rural Chaplain, who reflects on belonging, and what might hinder us.
You can read the full thought here: August 2021