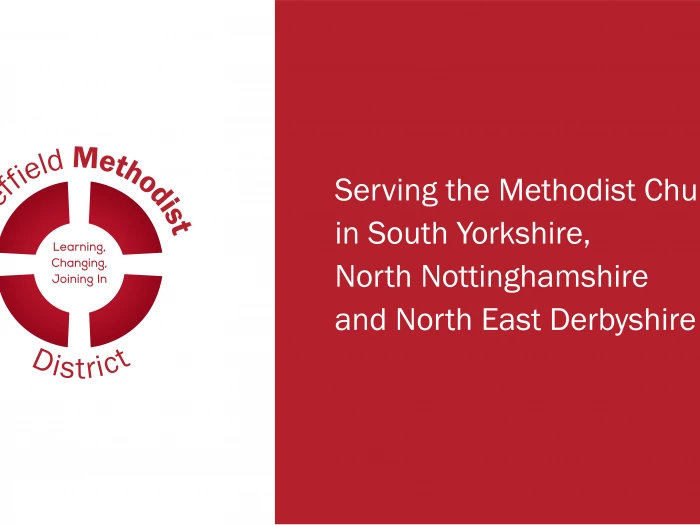 This Week's News
GDPR
Thank you to all the churches and circuits who have returned the checklist. The deadline for completion this year has now passed, and I will be sending the list to the data controller (TMCP) shortly.
If your church needs more support in understanding what is required, please do not hesitate to get in touch. I am willing to put on more training sessions over this year, over Zoom or in person – but there will need to be a minimum number of attendees to make this worth while.
We are seeking a District Worship and Preaching Officer.
Are you passionate about worship? Do you have the skills to help us develop Passionate Contextual Worship across the District? You could be just the person we are looking for to serve as our District Worship and Preaching Officer.
Find out more and how to apply on the District website. Expressions of interest should be submitted by Friday 8th October.
District Chair Gill Newton can also be contacted for a conversation about the role before you apply.
https://www.sheffieldmethodist.org/news/news-stories/worship-preaching-officer.html
Sad news
We were sorry to learn of the death of the Revd Bryan Stevens at the start of the month.
The funeral service will be at 2:00 p.m. on Monday 27th September at Hallcroft Methodist Church, Hallcroft Road, Retford DN22 7LQ
Family flowers only please but donations if desired to Bassetlaw Hospice and Hallcroft Methodist Church.
Interfaith Practitioners
Are you concerned about developing and promoting good relationships with people of other faiths?
Inderjit Bhogal, Liz Wills and Gareth Jones meet together from time to time as Methodists in the Sheffield District who are committed to inter-faith relations, to share and reflect on their experiences.
They would be very glad to be joined by anyone else in the District who is involved in, or has an interest in, inter-faith relations. If you would be interested in joining the group, please contact Revd Gareth Jones at garethjones11@gmail.com or on 0114 250 8251
Same-Sex Marriage guidance and resources
The Methodist Church guidance for churches who wish to discuss whether to register buildings for same-sex marriages is in the process of being uploaded to their website. Further documents will be added over the next few days.
https://www.methodist.org.uk/about-us/the-methodist-church/marriage-and-relationships/guidance-and-resources-for-same-sex-marriage /
District Safeguarding Update
Safeguarding Sunday – 11th October 2021
This autumn, join hundreds of churches across the country who together, will be turning a spotlight on safeguarding.
Protecting vulnerable people is at the heart of the Christian message. Safeguarding Sunday is all about creating an opportunity for churches to show their communities that they take this responsibility seriously.
It's your chance, as a church, to use your regular Sunday service to explore together what safer places look like, and to thank all those working behind the scenes to make our churches safer for all.
Whether you can give just a few minutes or can dedicate your whole service, Christian Charity thirtyone:eight have everything you need to help plan and run your event and they invites all churches to celebrate.
Taking part is easy: To register your church and get your free resource pack, go to https://thirtyoneeight.org/news-and-events/safeguarding-sunday/
This would be the perfect opportunity to thank your church Safeguarding Officer for all the time they dedicate to their role and to collectively pray for them and for those they work to protect.
(thank you Agnes in Chesterfield for bring this occasion to our attention!)
DBS Changes
The Disclosure and Barring Service (DBS) has announced up-coming changes to the identity guidance to reflect the changes to Right to Work legislation and as result of Brexit. There are 3 main changes:
All reference to EEA in the UK national route has been removed
Amendments to the primary documents for the international route
You must do a separate check to make sure a job applicant is allowed to work in the UK
In the new identity checking guidance, particular emphasis has been placed on the importance of completing a separate Right to Work check. If you require support with your Right to Work checks, DDC's new and improved Right to Work check might be of interest.
"If you have any applicants who are struggling to provide supporting identity guidance then please ask them to get in contact with us and we can provide further assistance. You can also speak with our DBS checking experts if you have any questions. We are happy to talk you through the changes". Due Diligence Checking
As ever, if you have any questions or concerns please give me a call on 07483 362 735 or email me at safeguarding@sheffieldmethodist.org
Many thanks
Alison Hill
Events
Reducing loneliness amongst BAME older people
Monday 27 September from 10am-12 noon
Want to know what you can do within your organisation or as an individual to improve your support and interaction with BAME older people?
SCCCC are delighted to be hosting this virtual event to highlight how loneliness and isolation impacts BAME older people as well as the impact Covid-19 has had on them.
We recognise that although there are a lot of similarities, there are also a lot of differences between 'BAME' communities. To help us raise awareness about some of the diverse issues experienced by BAME older people we are joined by four very experienced speakers:
Naureen Khan – Engagement and Quality Officer at St Luke's Hospice Sheffield
Sarah NG – Chair at Sheffield Chinese community centre
Shahida Siddique – CEO of Faithstar & DiverseCity Development Trust
Rehneesa Inez – SCCCC – BAME Community Engagement Officer
For more information, including how to register: Reducing loneliness
Whirlow Spirituality Centre
Writing For Wellbeing: Finding Your Hidden Treasure
This guided therapeutic writing workshop on the theme of 'Hidden Treasure' will inspire creativity and build positive connections after a challenging year. Attend via Zoom on 3 November or in person on 6 November. Both led by Leonie Martin.
Details and bookings for the Zoom event are here.
Details and bookings for the 'in person' event are here.
Regional Retreat
There are just a few places left on the Regional Retreat in November (16th-18th) at The Briery in Ilkley. Our good friend Dr Debbie Lewer, who led us so wonderfully last November on our online retreat day, will be with us in person to explore Wealth and Poverty in Art and Faith.
More details including how to register here: https://yp21-11-16retreat.eventbrite.co.uk
Deadline for registration: 6 October
Sheffield Cathedral Christmas Lights Spectacular 'The Beginning'
This Christmas Sheffield Cathedral will once again be transformed through an amazing array of light and digital artwork projections. Watch as the Nativity story and Christmas celebrations are projected on to the facade of the Cathedral before coming inside to immerse yourself in a stunning sensory experience inspired by the building's historic stained-glass windows.
Nearly 1000 tickets have already been snapped up during a 3-day pre-sale in June. With tickets for times and days limited, book your tickets NOW to avoid disappointment.
Job Vacancies
Manager – The Foundry Sheffield
30 hours per week, £30,000 per annum
Overall responsibility for the leadership and efficient and cost-effective operation of the Victoria Hall building, enabling the realisation of the business/development plan through a programme of income generation and effective project management. Acting as The Foundry's principle representative in external relations and communications, having regard to the centrality of the charity's relationship with the Methodist Church.
As well as having relevant senior level experience of managing staff and leading teams, you must be able to demonstrate experience in managing complex revenue and capital budgets. A successful track record in securing funding and generating income is essential, as is excellent relationship-building, influencing and negotiating skills. An ability to communicate effectively and persuasively to a wide range of different audiences is a key requisite to this role.
Full details at https://www.varotherham.org.uk/job/manager-the-foundry-sheffield/
Closing date for applications: 12 noon – Wednesday 6 October
Nurture and Pastoral Care Worker – Barnsley North East
The Circuit is seeking to appoint a part time worker to provide pastoral support and care alongside the minister in the North East Church. This worker will also play a key role in developing opportunities for nurture and discipleship within the church. Some evening and weekend work will be required.
The salary will be £11440 per annum for a part time position of 20 hours per week.
The initial appointments will be for 3 years and may be extended subject to securing funding.
This is a Circuit appointment and will be based in the North East multi-site church.
For further information or an application pack,please email: circuitoffice@btconnect.com
By telephone, please call the Circuit Administrator, Jayne Wragg on 01226 321522 and leave your contact details
Closing date for applications: 7th October 2021
Community Link Worker – Hoyland and Birdwell
Do you feel called to share your Christian faith in a community setting?
Have you got the skills to help a newly-created congregation to look outwards with confidence?
You could be just the person we are seeking. Why not send for details?
The Circuit is seeking to appoint a full-time worker to help engage with local communities, especially those in the Hoyland and Birdwell area.
Some evening and weekend work will be required.
The salary will be £22,912 per annum for this full-time position.
The initial appointments will be for 3 years and may be extended subject to securing funding.
For further information or an application pack, please email: circuitoffice@btconnect.com
By telephone, please call the Circuit Administrator, Jayne Wragg on 01226 321522 and leave your contact details
Closing date for applications: 10th October 2021
Services Manager
Trinity Mission, Castleford is a faith based charitable organisation working with and sharing advice and support to the marginalised and socially isolated in the Castleford area.
The successful candidate will work alongside an existing Support Manager to deliver the Mission's current services and to develop the Mission's work within the Castleford area.
Main responsibilities:
To plan and manage the delivery of the food bank, clothing store and meal provision offered by Trinity Mission, being present when the Mission is open to guests.
Oversee the appointment, induction, support and training of volunteers.
The post is for 24 hours per week (mainly weekdays, but occasional evening and weekend work will be required).
The salary will be £15,226 p.a.
For further details and an application pack please contact: info@trinitymethodistcastleford.org.uk
Closing date for applications: 16th October 2021