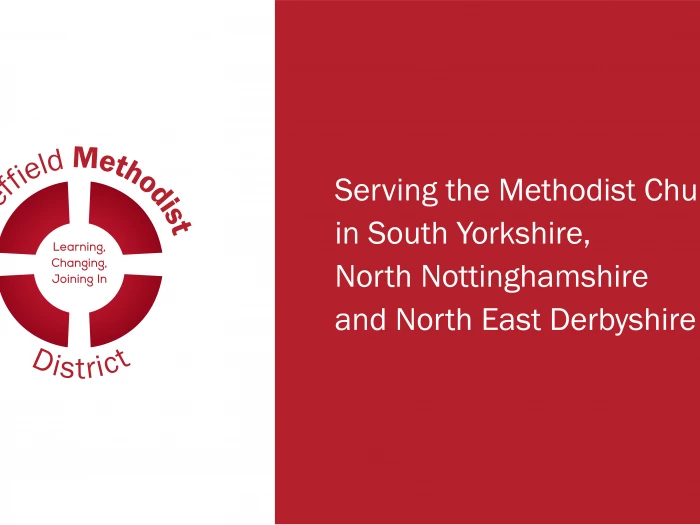 This Week's News
Sad News
We were sorry to learn of the death of Mrs Doreen McBrien, widow of Revd Frank McBrien who served in the Brunswick and Sheffield North East Circuits. We hold her family in our prayers.
We also are sorry to announce the death of the Revd Gordon Morton, a former minister in the Bolsover and Staveley Circuit and also a workplace chaplain across South Yorkshire. Our thoughts and prayers go out in particular to Julie and Emma at this time along with the wider family.
District Safeguarding Update
Thank you to the churches who have sent back their Safeguarding Audits for this current Connexional Year. I am currently working through them and will have feedback ready to be sent out early September.
For those who have yet to return their audit, please will you do so as soon as possible.
Please note that this does not include a small number of settings in the Sheffield District with a deadline of 31.8.2021.
I don't want to inflict any more pressure so please be assured that the audit should only take an hour or two to complete. If you find yourselves unable to answer a question or provide evidence then don't go to extreme lengths, just explain the issue in the box and move onto the next question. It will help us all if you are completely honest. Support will be put in place where needed, without judgement or condemnation.
As ever, if you have any questions or concerns please give me a call on 07483 362 735 or email me at safeguarding@sheffieldmethodist.org
Many thanks
Alison Hill
District Safeguarding Officer.
District Book Club
With the discovery of zoom over the past year, the L&D group spontaneously started a District Book Group on zoom in February 2021.
It was a joy to join together lay and ordained avid readers from across the Sheffield District and discuss Brian McLaren's book "Faith after Doubt".
We would like to gauge what the appetite is for another book group, starting in September/ October 2021 – with a similar pattern of monthly meetings on zoom to discuss a book
A number of books have been suggested for the next gathering and you can find out more – including how to vote for your own choice to study – here: Book Club
The Foundry Sheffield Information Afternoon
As part of our work to extend our Trustee Board we are having special event on Thursday 16 September 2021 at 2pm so people who are interested in finding out more about trustee roles can meet some of the team including existing trustees, hear more about the Trustee vacancies, what's involved, ask questions and find out the next steps. There will also be a chance to have a look around the building.
More information can be found here: The Foundry Sheffield at Victoria Hall invites you!
Support local charities
Jonathan Buckley, Youth and Children's Co-Ordinator for the Sheffield Circuit, is embarking on two epic running races to raise money for local charities.
On Sunday 26th September he is running the Sheffield Half Marathon (postponed from March 2020) to raise money for The Snowdrop Project who provide long-term support and aftercare to empower survivors of human trafficking. Then on Sunday 3rd October Jonathan is taking part in the Virtual London Marathon and raising money for KnowValuedLoved. Another local charity to the District who support the education of children around the world who live in areas of conflict. To complete the 26.2 miles of the Marathon Jonathan will be completing 8.5 laps of the running track at Rother Valley stadium.
To donate and support Jonathan please visit: https://www.justgiving.com/fundraising/jonathan-buckley16 and https://www.totalgiving.co.uk/mypage/kvlondon
Chapel in the Heart of the Dale
Malham Methodist Chapel has been recently converted to provide a splendid worship area and meeting space. It has a small kitchen and toilet and is fully accessible. There is digital projector for presentations.
Ideal for retreats and study days!
You can find out more here: Malham Chapel
Covid-19 God's Wake-UP Call?
Those who attended the Spring Synod will remember Tom Starkey who spoke passionately on this topic. His new book which explores the theme in more detail is now out.
Full details can be found here: Covid-19
Pledge to Pray for COP26 with Christian Aid
This year is crucial in the struggle for climate justice. To rise to the challenge, we must underpin it in prayer. Our prayers will spur us to take further action and encourage our leaders to deliver climate justice at COP26. As we journey towards COP26 Christian Aid is joining the Young Christian Climate Network (YCCN) in a pilgrimage for climate justice. It will count up all the prayers and actions taken in support of this pilgrimage and deliver them to decision makers in Glasgow.
Pledge your prayer in support of the pilgrimage.