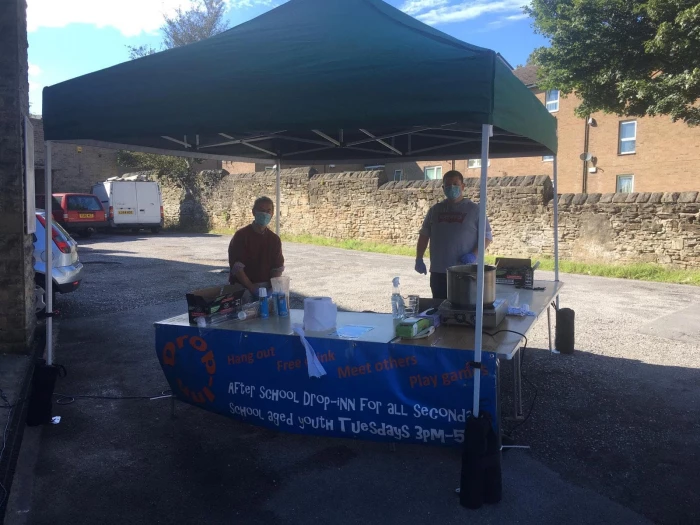 An after-school youth club run at Wesley Hall Methodist Church in Sheffield has had over 1,500 visits from young people and from almost 100 adults during the Covid-19 pandemic.
Sean Briscoe, the Pre-Teen & Youth Worker at the church in Crookes leads Drop Inn on a Tuesday after school which invites young people from all the local secondary schools to come and play Lego, card games, table tennis, table football, mini snooker, board games and a games console was set up. Hot chocolate and ice-cream were also shared as well as offering chances for longer conversations on a specific subject or bible reading.
When the pandemic hit, the Drop Inn wanted to stay connected with the young people and still be able to offer them a place they could safely visit and take away their hot chocolate and ice-cream.
Sean explains: "It was really important to us to work out how we could still offer the young people a place they could feel safe to visit, still enjoy their hot chocolate, be able to have a conversation and feel connected."
Following all Covid guidelines the church hall was re-arranged and Drop Inn re-opened in September 2020 and so far, they have had 1,669 visits from young people and 91 from adults.
Sean added: "We have been blown away by the success of Drop Inn during the pandemic. We had lots of regular visitors before we had to close, but we now seem to have more and more arriving each session. Our new faces are arriving after recommendations from friends and then they are inviting more friends themselves. I believe amazing things are happening in Crookes and especially Wesley Hall.
"I'd like to say thank you to the young people for still being so positive after all they have been through and to the volunteers as without them the sessions wouldn't be able to be run."
When Drop Inn re-starts in September following the summer holidays an extra faith aspect will be re-introduced where young people will be invited to stay a little longer for a conversation on a specific topic or piece of scripture alongside a slice of pizza.
Neil Harland, District Mission Development Support Worker, said: "This is an excellent example of how we can grow disciples. Sean and his team of volunteers are making an impact on the children and young people of Crookes by just simply being there and offering them a safe place to talk and takeaway a nice treat. They are transforming mission with allowing their regular visitors to invite their friends and when Drop Inn re-open after the summer, the longer conversations about faith can begin again."