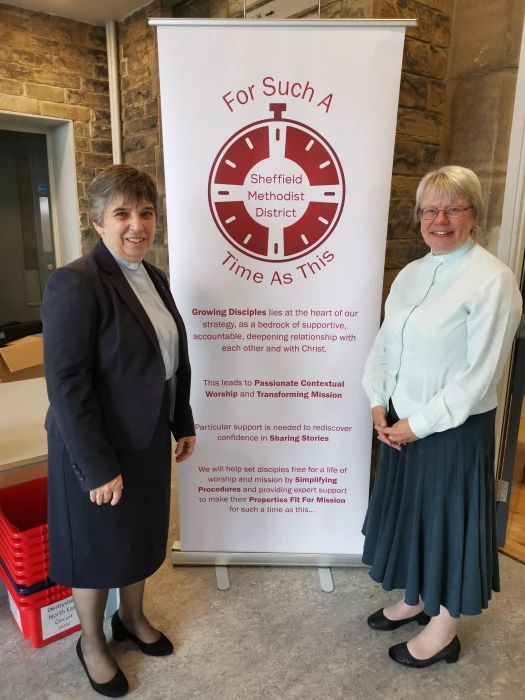 A new Deputy Chair of the District has recently been appointed. Revd. Julie Coates will initially serve in this role until September 2025 after Revd. Sean Adair stepped down from the role following his six years of service.
Revd. Coates was officially appointed at our Representative Synod in September and she welcomes the opportunity which this role will bring for her to be part of the District Leading Team and Synod Planning Group as she enjoys working as part of a team and finds it inspiring to learn from others.
Julie said: "I am delighted to have been appointed as Deputy Chair of the District. I feel energised, spiritually refreshed and challenged through engagement with initiatives such as Walking with Micah, Bible Month and a Methodist Way of Life and I will bring my 'hands on' experience of church leadership and Circuit life to the role."
Revd Julie Coates is a minister of 23 years' experience who currently serves as Superintendent of the Trinity Circuit which covers Retford and Worksop as well as the surrounding villages. She began her ministry in the Burton-upon-Trent Circuit where she served for 11 years and then served in the Ashton-under-Lyne Circuit for nine years, five of which were as Superintendent.
Chair of the District, Revd Gill Newton said: "I am delighted to be working alongside Julie as Deputy Chair. She brings experience of serving in Circuit roles such as Local Preachers' Tutor, in District roles such as a Positive Working Together Group and the Probationers' Committee and in Connexional roles such as the Methodist Schools Ethos Development Group. She has also served as a District Ecumenical Officer.
"She takes training and development seriously and has, in recent years attended courses which focus on supervision, bullying and harassment, church conflict, Godly Play and Deep Talk. She is an experienced chaplain and school governor.
"Julie will bring her evident skills of leadership, administration, listening and enabling to the role. Her positive, prayerful and collaborative approach will be welcome qualities within the District team."
Revd. Sean Adair, Superintendent of the Derbyshire North East Circuit served as Deputy Chair for six years and we thank him for his contribution to the life and work of the District.
At the recent Synod Gill said: "It was an absolute pleasure to work alongside Sean as Deputy Chair, he has been part of the District for many years and has made a significant contribution to the life and work of the District. His experience and support have been invaluable especially as we have grown and expanded the District team considerably over the last few years.
"Thank you, Sean, for your dedication and hard work during your time as Deputy Chair, we are truly blessed to have had you as part of the team.
"Julie will bring her own personality and skills to the role and we look forward to her bringing a new dynamic to our District team."