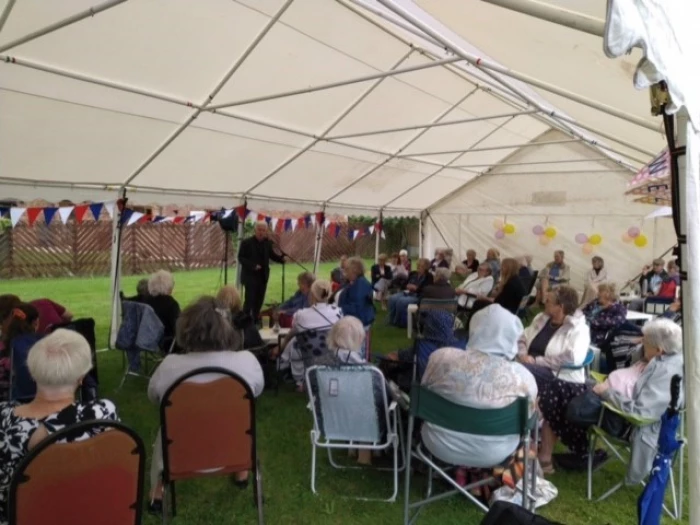 A series of Ladies Afternoon's taking place in the Barnsley Circuit to offer fellowship for older people have kicked started with a visit from local Barnsley Poet Ian McMillan.
In July over 50 people attended the event at Kexborough Methodist Church where a marquee had been placed in the grounds and to make sure it was Covid secure the ladies brought their own lunch, drinks and a garden chair.
Comedic Poet Ian McMillan gave a speech after lunch and used inspiration from the marquee on the day to write a poem.
The event was free; however, donations were requested in aid of Barnsley Museums and Heritage Trust. A total of £145 was raised.
The Ladies Afternoons are designed to bring ladies from different churches together and to give them a chance to invite their friends and family who may not normally go to church.
The next event is planned for Monday 27th September at Brierly Methodist Church and will be available for up to 60 people, buffet lunch will be provided and the guest will be Simeon Woods. He's a local musician who plays the flute and other instruments to celebrate all that is good about life, to help motivate and make a positive difference to people's lives. He's also appeared on Britain's Got Talent and BBC's One Show. A minimum charge of £5 will be requested when booking a place. The series then continues in December at Valley Darfield where music group The Garden Party will provide entertainment.
Feedback from July's event included: "That has done me good, I haven't laughed like that in months."
"It is so good to meet together, to chat, each lunch, brilliant."
"Put me down for the next one, I'm definitely coming and now I know they are good I will bring some friends."
If you'd like to come to future events please email Carol_Cotton@hotmail.co.uk