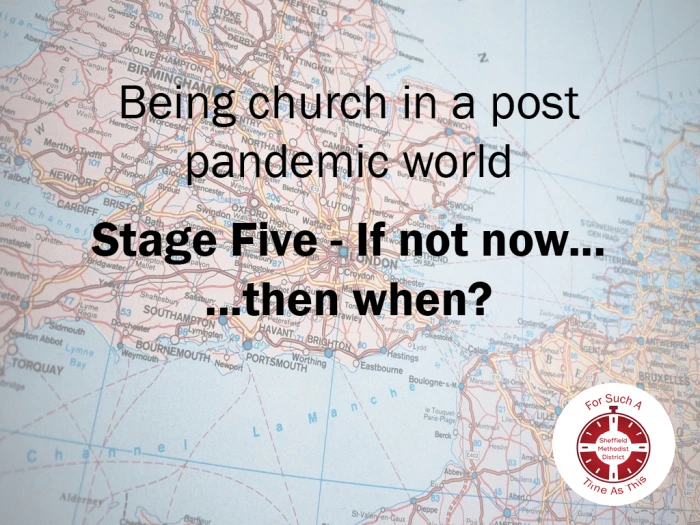 Meeting over Zoom, our District Leadership Team accepted five closure requests from churches this month. More will follow. Last week Superintendents and Circuit Stewards met to discuss the challenges of finding, and affording, ministers.
Each of our churches is different, but if things feel difficult, exhausting or bleak you will not be alone. Dependable people may have said they can't continue in key roles, longstanding cherished groups and activities may never return, some of your fellowship may have slipped quietly away.
Any that's before the pandemic-impacts on the physical and mental health, finances, employment and relationships of those you love.
And before we have to work out how to hold together our contrasting hopes and fears about wearing masks, singing, house groups, social cafes, Messy Church, toddlers, house groups, etc etc.
At times we can feel not so much "Freedom Day" as the words of the old hymn "change and decay in all around I see". Time to batten down the hatches? Best to keep our expectations low? Settle for what we have left? Manage decline?
In the teeth of the Great Depression, Roy and his brother launched into the biggest gamble to date of their fledging business, dwarfing their previous output, in which they would invest three year's graft before hope of any income, pushing the boundaries of their creativity and technology. Snow White and the Seven Dwarfs, their first feature length animation, became a huge box office hit. Walt Disney Studios never looked back.
In 1941 Europe's future still hung in the balance. The Master of University College Oxford was loathed to step aside from what felt important urgent work improving initial training for Army recruits, to chair an obscure committee appointed by the government's Minister Without Portfolio. By he agreed, and dutifully spent the next 18 months pouring his intellectual energy into its Report on Social Insurance and Allied Services. Long before the Normandy landings, William Beveridge had written and publicly laid out the blueprint for a new National Health Service, welfare state and expanded national insurance scheme.
The all-conquering Babylonian army was building siege ramps around the tiny hill-city of Jerusalem. Within the walls, Jeremiah was under house arrest – his repeated prophecies of defeat were deemed treasonous and detrimental to public morale. But when part of his extended family's estate was put up for sale, Jeremiah stepped up to the plate and paid the full price to buy it back. With his besieged captors acting as witnesses he instructed the freshly signed deeds be placed in long term storage. He knew he would never farm this land, but future generations would. . declared the prophet.
Sometimes it is only in a moment of crisis when we finally recognise there must be another way. Generations later, Jeremiah's defeated nation did return to their city and farmland. But they came back a different people. In exile they collated their holy stories, read them in a fresh light, and discovered by the rivers of Babylon that they could sing their ancient songs in a new way.
Sometimes it is only when we cannot ignore the crumbling debris of Christendom around us, as all empires eventually fall, that we pack our daysacks and start a new life as God's pilgrim people embedded in the contemporary networks and neighbourhoods of twenty first century Britain.
Sometimes it is only at our most broken that we fall sobbing at the foot of the cross, the place where ministry begins. As we lie blinded and helpless by the side of the road can we in a moment of crisis, like St Paul, hear a new different commission being spoken to us. Ask and pray now, with your house/class group, on Sunday "what next Lord? what now?"
We have spoken before about listening beyond our churches, laying aside the non-essential, looking out for those around us, trusting outcomes to God. At the heart of For Such A Time As This lies the conviction that weak and bruised as we may feel, God has equipped us with all we need for the essential work to which we are now called.
Freedom Day is not the end of the covid pandemic, but we are living in a liminal time. Like Disney, Beveridge and Jeremiah, perhaps you are being called in the chaos to take the first step towards a new ministry or to bring good news to new people.
When the invitation to God's banquet comes, will your answer be"not yet" or, to use a topical phrase, "if not now then when?"
We are instructed to support and encourage one another. If you feel restless or challenged to start something new, discuss with someone from your church or circuit. Please do let me know what is bubbling up. There may be someone elsewhere in the district with the same vision.
Neil Harland
Mission Development Support