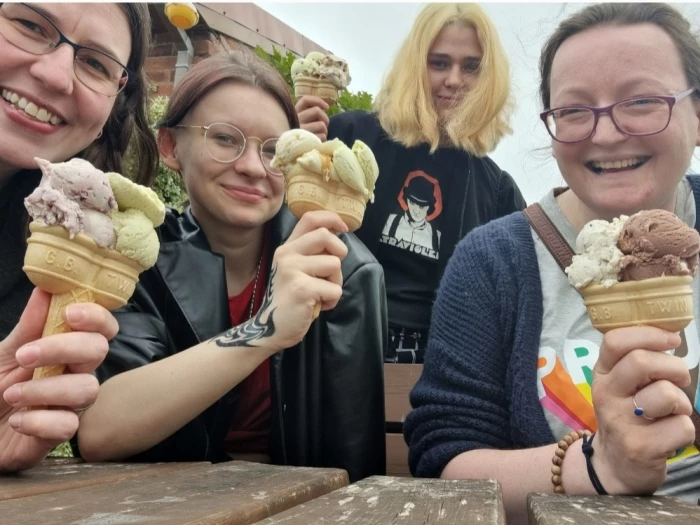 Deacon Emily Hoe-Crook from the Trinity Circuit, along with her wife Lisa have opened up her home to Ukrainian refugees as part of the Homes for Ukraine scheme.
Emily explains it's been a bit of a whirlwind; however, they have two young ladies now living with them and thanks to the generosity of those around them their rooms have been furnished with beds, work stations, furniture, and all other items the ladies require.
"Through the scheme we agreed to host Liza and Daria from Odesa, however there have been delays with their visa's, but then we received messages from another even younger couple who were stranded in Germany, their UK sponsors having fallen through. We organised flights and welcomed Milana (19) and Alina (22) to our manse within a couple of days, and they've lived with us for a month.
"Milana celebrated her 19th birthday the day before flying to the UK, so our first evening together involved a giant rainbow cake, candles and teaching the girls the tune of 'Happy Birthday!'. The girls are young and traumatised but absolutely lovely, funny, creative and caring people, and we love spending time with them.
"During their month with us we've managed to get them Residents Permits, English bank accounts and also apply for Universal Credit. We've shared some wonderful times with them including introducing them to Thaymars ice-cream and also taking them to their first UK Pride. Being an LGBTQI+ couple is much more dangerous and stigmatised in the Ukraine. Alina marched at Kyiv Pride last year and was pepper-sprayed in the face by protesters. Their experience here was so positive – seeing people lining the streets to clap for marchers rather than lines of police holding back hateful protesters was hugely encouraging.
"It's been incredible – you go into this kind of adventure hoping that however much or little you can offer will make a difference, not expecting to receive in return, but both Lisa and I feel so blessed by this unanticipated time with Milana and Alina. From the moment we collected them from Sheffield train station, they have been a delight!
"We look forward to meeting Liza and Daria and making new memories with them. Please pray for each of the girls as they continue adapting to life in a new country, and for safe travels from Worksop to Brighton, and Odesa to Worksop.
"If anyone would like to help Liza and Daria settle in, donating Sainsburys vouchers would help but 'Welcome Home' cards sent to 5 Shepherds Avenue, Worksop, Nottinghamshire, S81 0JD would be very welcome too. I'd like to say a humungous thank you for the incredible response to our appeal for help and for all the support offered to us and our Ukrainian guests so far."
Emily is happy to speak about life with Ukrainian guests if you feel this would be useful for your Circuit or Church.