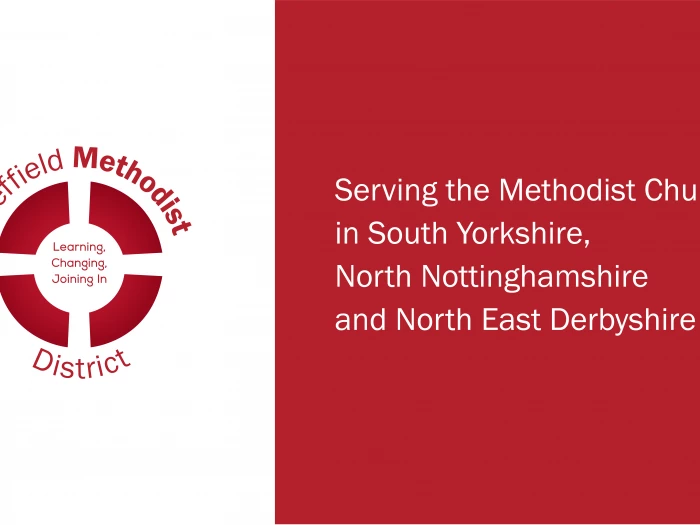 This Week's News
Sad News
We were sorry to learn of the death of the Revd John Peacock. John was a Supernumerary minister in the Sheffield Circuit. We hold Muriel and the family in our thoughts and prayers.
Christmas Resources
This year the Methodist Church will be sharing resources that reflect the inclusive Methodist Church, offering an invitation to every person, no matter where they are on their faith journey, to enter into the joy and hope that the birth of Christ brings to all. The Christmas Service on a CD follows the Presidential theme of God's Table, An Invitation For All.
What have you missed during the pandemic?
The aim is to celebrate some of the elements of life that have been sorely lacking over the last while. The vibrancy and emotion that beautiful art can elicit, the warmth and sense of being valued that can come from receiving a card from a friend or neighbour, the joy and meaning that music, Scripture and poetry can bring to life's challenges and complexities.
Read more about the resources and find out how to access them here
Line Manager's Training
The Methodist Learning Network offer training days for those new to line management.
As part of the day you will:
Identify the key skills and qualities needed to manage lay employees
Gain clarity on the different functions of line management
Understand the line manager's role in the employment cycle
It is also an opportunity to make contact with others in the same role as yourself.
This is held over Zoom and registration is via EventBrite.
You can see the full list of dates and register to join here:
https://www.eventbrite.co.uk/o/methodist-learning-network-33599752323
District Safeguarding Update
Squid Games
"Squid Game," which debuted on Netflix in September, is a South Korean fictional drama following contestants, who are deeply in debt, as they play a series of children's games in an attempt to win money. But, if contestants lose, they're killed off -- and the show doesn't shy away from the gore and violence. The series is rated 15+ however parents and carers should be aware that video content from this show is found extensively on TikTok, which could also increase interest in watching the show. "Even if you restrict the young person in your care from watching Squid Game, they may be able to access content on other platforms". I have created a Newsletter giving more information, including how to protect children and signposting to appropriate support services. You can view the newsletter by clicking here.
As ever, if you have any questions or concerns please give me a call on 07483 362 735 or email me at safeguarding@sheffieldmethodist.org
Many thanks
Alison Hill
District Safeguarding Officer.
Events
Eco Church Open Evening
6:30 – 9:30pm Tuesday 2 November
This open evening hosted by St Andrews Psalter Lane Church and Sheffield Methodist District is for churches of any denomination interested in considering, getting started, or already involved in the Eco Church movement.
An opportunity to ask questions, hosted by a local church holding an Eco Church Silver Award. What difference does being an Eco Church make in practice? How to get started? How to overcome common challenges? How can we better support and encourage each other?
Further details and booking at https://211102-ecochurch.eventbrite.co.uk
Ministry with Older People
Online webinar – Understanding needs : Auditing my community
Wednesday 3 November from 1pm
What is a community audit? What is the point of one? Where do we start?
An opportunity to explore some practical and effective tools for understanding better the varied needs of older people living in your community, what is already being provided, and who might be willing to minister alongside you. Including opportunities to share experiences and hear stories of real-life community audits.
Book your place by Sunday 31 October via this link: https://211103opcop.eventbrite.co.uk
Job Vacancies
Community Outreach Worker (part-time)
Stocksbridge Christian Centre
An opportunity has arisen for an enthusiastic and committed Christian to work with our small, friendly, forward thinking church to expand outreach in Stocksbridge and the surrounding area.
The post is part-time for 15 hours per week and is a fixed term for 12 months.
Purpose:
The employment of a part-time Community Outreach Worker for 15 hours per week for 12 months is a key part of plans to develop and continue a project called 'Sowing Seed on the Whitwell Estate', a concerted effort to reconnect the Stocksbridge Christian Centre with the younger families, children and youth who comprise the most significant portion of the population of the Whitwell Estate in Stocksbridge.
Main Responsibilities:
The broad remit of the Community Outreach Worker will be the following:
to be the liaison between the church and the local community.
to work creatively to make new disciples of Christ.
to develop new forms of outreach to the local community including work with younger
families, parents with pre-school children and middle-aged and older adults
to work co-operatively with the minister, congregation and staff at the Stocksbridge Christian Centre.
Main Terms
Hours of work: 15 hours per week.
Contract: Fixed term for a period of 12-months.
Rate of Pay: £9.50 per hour.
Next steps:
Please email hr@sheffieldmethodist.org for an application pack (or if you like to have an informal conversation about the role before making an application, please contact Rev. James Grayson at j.h.grayson@sheffield.ac.uk).
Closing Date: 31 October, 2021.
Interview Date: Week commencing 15 November, 2021 (TBC).
Church & Community Support Worker
Do you have excellent administration skills but long for a role that involves meeting and connecting with people?
Do you have a passion for helping local churches and communities find common ground in helping each other?
Do you enjoy working in a varied team of employees and volunteers towards a shared goal?
If so, please consider applying for this newly created role at St Columba Anglican and Stephen Hill Methodist Churches, Crosspool, Sheffield.
The churches are looking to appoint a Church & Community Support Worker for 16 hours a week for a fixed term until 31 December 2023. We can offer flexible hours but do require some evening and weekend working.
Please click here to visit our website and download Job Description and Person Specification.
To apply, please send your CV and a covering letter to: Clare.Fowler@stcolumbacrosspool.org.uk. For any enquiries please contact: Clare.Fowler@stcolumbacrosspool.org.uk.
Closing date for applications is 1 November 2021 . Expected interview date 12 November 2021.
Learning & Development Grants Group Member
We are seeking new people to join the small team awarding learning & development grants on behalf of our district. Helping people become, learn and grow into confident disciples of Jesus is a core part of our mission. One of the ways we equip growing disciples is through provision of grants to access or deliver learning and development opportunities.
Being a member of this group gives opportunity to nurture, equip and support growing disciples through access to learning, and to gain exposure to a wide variety of emerging resources.
The grants group usually meets three times per year on Zoom, with more straightforward applications being dealt with by email between group members. The role would suit someone who is passionate about the importance of training and education within Christian discipleship and comfortable dealing with email correspondence between group members and occasional Zoom meetings. It will require an average two hours per month.
The majority of current group members live in the city of Sheffield, so we are particularly keen to add members from other parts of the district. If you are interested in this role or for further information contact Katrin Hackett admin@sheffieldmethodist.org