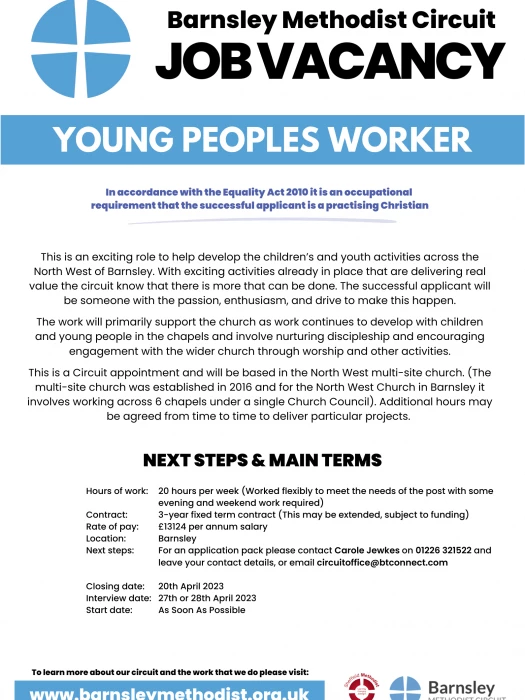 Young People's Worker
Barnsley Circuit
This is an exciting role to help develop the children's and youth activities across the North West of Barnsley. With exciting activities already in place that are delivering real value, the circuit know that there is more that can be done. The successful applicant will be someone with the passion, enthusiasm and drive to make this happen.
The work will primarily support the church as work continues to develop with children and young people in the chapels and involve nurturing discipleship and encouraging engagement with the wider church through worship and other activities.

This is a Circuit appointment and will be based in the North West multi-site church. (The multi-site church was established in 2016 and for the North West Church in Barnsley it involves working across 6 chapels under a single Church Council). Additional hours may be agreed from time to time to deliver particular projects.

Hours of work: 20 hours per week (Worked flexibly to meet the needs of the post with some evening and weekend work required)
Contract: 3-year fixed term contract (This may be extended, subject to funding)
Rate of pay: £13124 per annum salary
Location: Barnsley
Next steps: For an application pack please contact Carole Jewkes on 01226 321522 and leave your contact details, or email circuitoffice@btconnect.com
Closing Date: 20 April