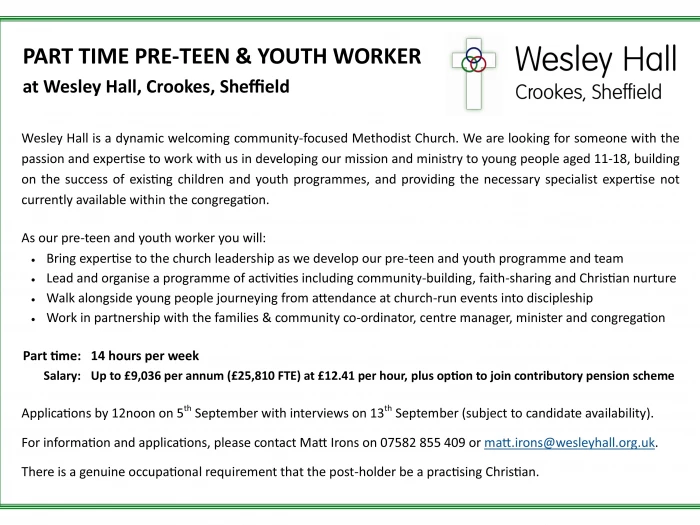 PART TIME PRE-TEEN & YOUTH WORKER
at Wesley Hall, Crookes, Sheffield
Wesley Hall is a dynamic welcoming community-focused Methodist Church. We are looking for someone with the passion and expertise to work with us in developing our mission and ministry to young people aged 11-18, building on the success of existing children and youth programmes and providing the necessary specialist expertise not currently available within the congregation.
As our pre-teen and youth worker you will:
Bring expertise to the church leadership as we develop our pre-teen and youth programme and team
Lead and organise a programme of activities including community-building, faith-sharing and Christian nurture
Walk alongside young people journeying from attendance at church-run events into discipleship
Work in partnership with the families and community co-ordinator, centre manager, minister and congregation
Part time: 14 hours per week
Salary: Up to £9,036 per annum (£25,810 full time equivalent) at £12.41 per hour,
plus option to join contributory pension scheme
Applications by 12noon on Monday 5th September with interviews on Tuesday 13th September (subject to candidate availability) and a start date to be agreed with the successful candidate.
For information and applications, please contact Matt Irons 07582 855 409 or matt.irons@wesleyhall.org.uk.
There is a genuine occupational requirement that the post-holder be a practising Christian.