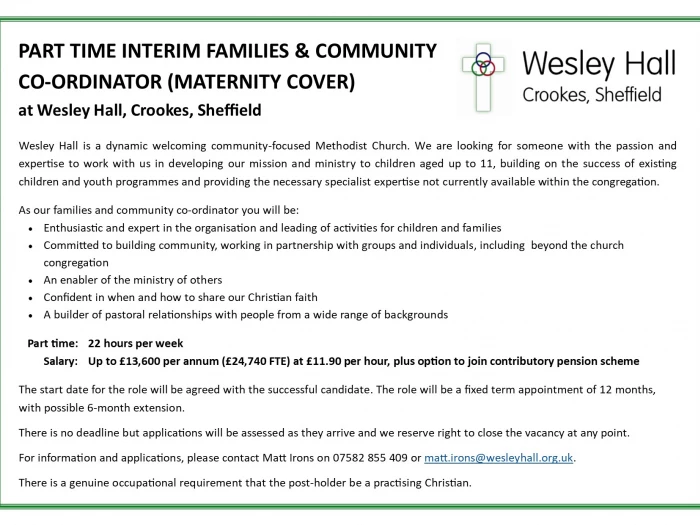 PART TIME INTERIM FAMILIES AND COMMUNITYCO-ORDINATOR (MATERNITY COVER)
at Wesley Hall, Crookes, Sheffield
Wesley Hall is a dynamic welcoming community-focused Methodist Church. We are looking for someone with the passion and expertise to work with us in developing our mission and ministry to children aged up to 11, building on the success of existing children and youth programmes and providing the necessary specialist expertise not currently available within the congregation.
As our families and community co-ordinator you will be:
Enthusiastic and expert in the organisation and leading of activities for children and families
Committed to building community, working in partnership with groups and individuals, including beyond the church congregation
An enabler of the ministry of others
Confident in when and how to share our Christian faith
A builder of pastoral relationships with people from a wide range of backgrounds
Part time: 22 hours per week
Salary: Up to £13,600 per annum (£24,740 full time equivalent) at £11.90 per hour,
plus option to join contributory pension scheme
The start date for the role will be agreed with the successful candidate. The role will be a fixed term appointment of 12 months, with possible 6-month extension.
There is no deadline but applications will be assessed as they arrive and we reserve right to close the vacancy at any point.
For information and applications, please contact Matt Irons 07582 855 409 or matt.irons@wesleyhall.org.uk.
There is a genuine occupational requirement that the post-holder be a practising Christian.