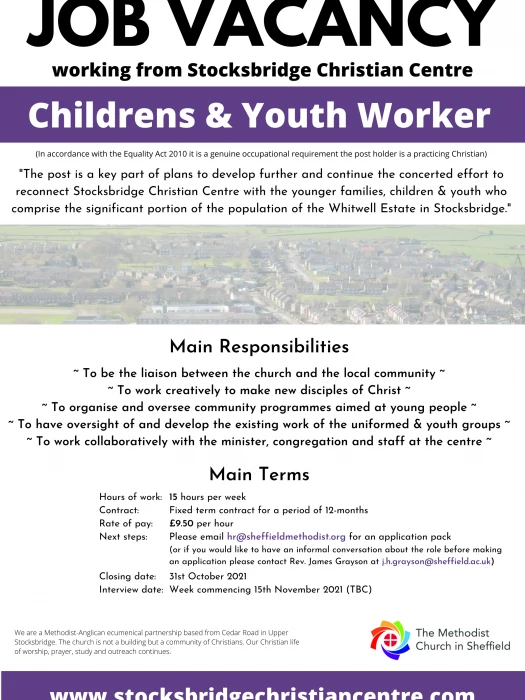 Children and Youth Worker (part-time)
at Stocksbridge Christian Centre

An opportunity has arisen for an enthusiastic and committed Christian to work with our small, friendly, forward thinking church to expand outreach in Stocksbridge and the surrounding area.
The post is part-time for 15 hours per week and is a fixed term for 12 months.
Purpose:
The employment of a part-time Childrens and Youth Worker for 15 hours per week for 12 months is a key part of plans to develop and continue a project called 'Sowing Seed on the Whitwell Estate', a concerted effort to reconnect the Stocksbridge Christian Centre with the younger families, children and youth who comprise the most significant portion of the population of the Whitwell Estate in Stocksbridge.
Main Responsibilities:
The broad remit of the Community Outreach Worker will be the following:

-to be the liaison between the church and the local community.

-to work creatively to make new disciples of Christ.
-to organise and oversee community programmes aimed at young people
-to have oversight of and develop the existing work of the uniformed and youth groups.
-to work co-operatively with the minister, congregation and staff at the Stocksbridge Christian Centre.
Main Terms
Hours of work: 15 hours per week.
Contract: Fixed term for a period of 12-months.

Rate of Pay: £9.50 per hour.

Next steps: Please email hr@sheffieldmethodist.org for an application pack (or if you like to have an informal conversation about the role before making an application, please contact

Rev. James Grayson at j.h.grayson@sheffield.ac.uk).

Closing Date: 31 October, 2021.

Interview Date: Week commencing 15 November, 2021 (TBC).

In accordance with the Equality Act 2010, it is a genuine occupational requirement of the post that the post holder is a practicing Christian.