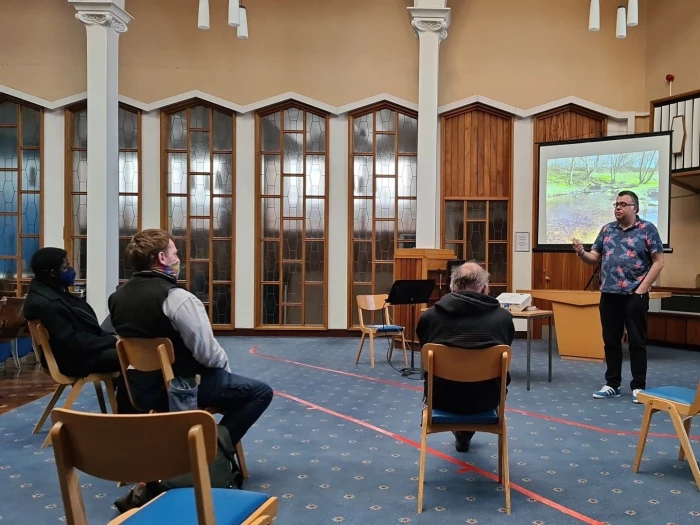 Covid-19 has undoubtedly changed the way we worship and has shown the need to offer alternative ways for people to come to know God. 
Revd. Jonathan Haigh is the minister at Victoria Hall Methodist Church and he explains how the congregation and the mission of the church has been affected by the pandemic, but how there is now fresh hope in the creation of a new discipleship community which is fit for mission.
He said: "The Oasis fellowship, an ecumenical project at Victoria Hall, had grown to over 30 people and we were hosting around 40 people with food and fellowship before the pandemic hit. Then lockdown arrived and it has been a huge challenge as it has been with other churches. The congregation was severely affected, the city is very quiet and even when we could, the scattered and elderly fellowship had no desire to come to worship.
"There is now fresh hope however, and we have been able to re-evaluate what people want and need.  We have appointed two members of staff Erica Dunmow and Delroy Hall who are creating a new discipleship community fit for mission. This is partly paid for by a grant from the Susannah Wesley Foundation and money from Victoria Hall designated for outreach and church growth.  
"The closure of the morning worship in lock down gave us a perfect opportunity to form something new and community fellowship focussed.  It started with around 6 to 8 people who are members of Victoria Hall.  They met each week, and at the back of the hall set up some chairs in a semi-circle and AV equipment.  
"The group all shared their ideas of what worship music to listen to, they discussed a set of bible readings and prayed together. 
"Out of this developed a midweek fellowship group on zoom that started to explore what it means to be a church and what was important about worship for them.  The worship had to go online using the zoom platform and the fellowship has grown to over 15 people.  They still meet for midweek fellowship online and prepare the worship together and pray for each other.  Erica and Delroy, in partnership with me are now spending time with each person to explore the priority of being part of Victoria Hall and their place in it as we go forwards. 
"The fellowship is more together now and are creating a foundation for church growth when the pandemic eases and we can return to church.  Each person feels engaged and an important part of the future.  Week by week we are welcoming back members to join the fellowship, as well as seeking to pastorally care for those who will probably never be able to come to Victoria Hall again due to their personal circumstances. 
"Victoria Hall Methodist Church is like a tender new shoot of hope and as the population in the city centre is expected to mushroom in size in the coming years now is the time to prepare the ground to be a relevant and vibrant city centre mission."
Howard is one of those how has benefited from the new discipleship community, he said: "Times have changed a lot following the pandemic, the world has changed and will be a vastly different place, however I feel everybody has a heart to reseed and regrow the morning congregation. If you always do what you've always done, you will get what you always got and nothing new."
If anyone feels called to support City Centre mission in the morning or at Oasis on the evening, please contact Rev Jonathan Haigh for a conversation at j.haigh100@btinernet.com