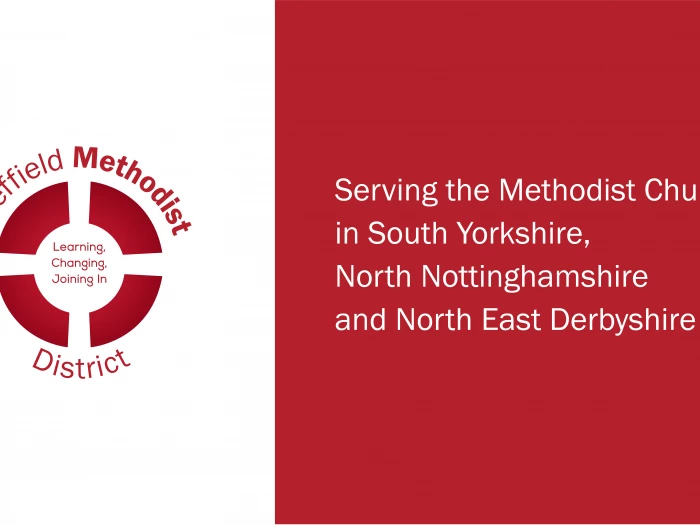 This Week's News
Congratulations
The Revd Chris Stebbing has been appointed as one of the Associate Archdeacon Mission & Transition Enabler by the Bishop of Sheffield. Chris is currently Vicar/Minister at St Luke's LEP in Lodge Moor and Assistant Curate at St Columba Crosspool and Stephen Hill, and comments:
"I am really excited to take on this new role within the Diocese of Sheffield after 20 years of parish ministry here. Now, more than ever, the Church needs 'to equip God's people for works of service, so that the body of Christ may be built up' (Eph 4v12). I'm looking forward to working with clergy and congregations as we, together, seek to move into all that God has for his Church in this new season."
We wish him well in this new appointment.
"What is essential anyway?"
In case you missed it, last week we published Stage Two of our roadmap for post pandemic churches. As we respond to changing covid regulations, we have a once in a generation opportunity to ask was is and isn't essential about our shared life together as Christian communities. Do get in touch if starting to ask questions leads to more questions that you can't easily answer.
Neil Harland mission@sheffieldmethodist.org
And don't forget to pray for your hairdresser!
District Safeguarding Update
Referral Forms for Churches
Taken from the Connexional Safeguarding Newsletter:
Following on from a number of requests for a standardised referral form that can be used by churches to make referrals to the DSO, we have created a model form: Church SG Reporting Form
This form has been based on consultation with DSO's and benefits from drawing on examples of existing formats that people have already tried.
We recommend that you use this form but it is not mandatory. It will be added to the main Safeguarding Policy in due course when the procedures are next updated.
Changes to Safeguarding Training requirements – update 1/4/21
Jonathan Hustler, Secretary of Conference & Henry Lewis, Chair Safeguarding Committee

Due to the travel and contact restrictions that have been imposed to cope with the spread of Covid 19, the Methodist Church has had to make many changes to its normal programmes and plans.
This has also had an impact for those members, officers and ministers who are required to undertake Foundation and Advanced Module safeguarding training every four years, due to the cancellation of face-to-face training courses.
Those requiring Foundation Module training are now able to complete this online and those requiring the Advanced Module will be also be able to access an online version from June this year.
When we are able to offer face to face training courses again we will also maintain the offer of on-line courses. Whilst it will take some time to catch up with all those who have been waiting to undertake the training for the first time, or who have reached their four-year renewal point the ability to offer online and face to face opportunities will enable us begin to catch up with the back log.
District Safeguarding Newsletter for April
This month's newsletter looks at the subject of Women's Safety in the UK, an issue that has been in the media over the last couple of months following the abduction and murder of Sarah Everard. Please follow the link to the newsletter which is on the District website: https://www.sheffieldmethodist.org/what-we-do/safeguarding/latest-news.html
As ever, if you have any questions or concerns please give me a call on 07483 362 735 or email me at safeguarding@sheffieldmethodist.org
Many thanks
Alison Hill
District Safeguarding Officer.
Zooming across the District
Time is running out to apply for one of the new licenses which have been made available via a Connexional agreement with Zoom which gives full access from now until the end of August 2022 for just £72. If you think this would be useful for your work, contact your Circuit in the first instance to request one. We may be able to request a few more should there be sufficient demand, but it is on a first-come, first-served basis.
Reminder – District Chair on Sabbatical
Gill Newton, our District chair is on sabbatical from now until 22 June and will then be attending the Methodist Conference immediately following that period. Gill will therefore return to the District in her role as Chair from July 2nd.
During Gill's absence, Revd Sean Adair, Deputy Chair of District will be covering Gill's responsibilities and you can contact him on revsean@btinternet.com. Any administrative enquiries should be sent to the District Office on admin@sheffieldmethodist.org.
GDPR – Annual Checklist
TMCP have issued a checklist which summarises the specific practical steps Managing Trustees must take in order to reaffirm their ongoing duties and liabilities under the Data Protection Act 2018 and the General Data Protection Regulations (GDPR).
It is important that every Local Church, Circuit and District works through this list. Once completed it should be returned to the District Office by May 2021.
You can find the Checklist here: Data Protection Annual Checklist
Events
Caring for ourselves in difficult times
a morning exploring ways of looking after ourselves so that we can continue caring for others.
When? April 27th at 10.00am – 12.30pm
Where? Via Zoom
Who? Tim Moore and Ali Dorey will guide the morning.
This session will use some Deep Talk reflection and draw on mindfulness and dialectical behaviour training techniques to help participants move into a calm state as well as take practical steps to gentle self- help in future.
Blending a spiritual path with the latest research in mental health, Ali and Tim invite you to a morning session of exploration and discovery.
You are warmly invited to listen and join in, in a friendly way, where they will help you through uncertain times with clarity, purpose and sensitivity.
Using techniques, both ancient and modern, you will discover some simple and effective ways of taking care of yourself as you take some time away from life's stresses.
To join this new webinar, register in advance here: https://zoom.us/meeting/register/tJ0ocumqrT0vH9WreiBeE98xI8pgHTognJPb
Lay Workers Community of Practice
Monday 10 May from 10am
As lockdown eases and we are able to start looking forward to whatever the future may hold, the prospect of going back to what was 'normal' may lead to very mixed feelings. You may be excited, anxious, exhausted or a combination of the these and other emotions. Rebuilding will present challenges; what do we want to restart, what do we want to keep, how do we set expectations for those we work with? During this session we will meet in small groups to consider how we leave lockdown well, what to grieve and what to keep; how do we manage expectations, our own as well as those of other people and what we need to sustain and equip us on this journey.
Register here: https://us02web.zoom.us/meeting/register/tZMrdOGqqjwpGt3x5C2_q-PVCZg07dBkORoN
Waiting on the Word
Sunday 7th-Friday 12th November 2021 – Cliff College
Through a programme of worship, teaching, silence and reflection based on a Benedictine monastic pattern, the Five-Day Community for Spiritual Formation aims to
root spirituality in Christian faith and tradition
provide opportunity for participation in community life
form people for life in a changing world
For more details including how to book, see the flyer here: CSF Flyer
Learning Opportunities
EDI 2 – Fearfully and Wonderfully Made
Responding well to the needs of disabled people
Thursday 29 April – 1:00 to 2:30pm
What exactly is disability, and what language should we use when talking about disability?
We know our churches need to be more accommodating, but how? And for whom?
It's not just about wheelchair ramps and large print, and its not just about disabilities we can see.
If you'd like to hear about people's experiences of navigating church and worship, and you want to know what your church can do to be just a little bit kinder, come to our Webinar.
During the webinar we will:
Explore definitions and helpful language.
Listen to people's experience.
Consider positive and appropriate responses.
Reflect on the next steps.
To register for a place, click here: http://bit.ly/EDI-2 – deadline is Monday 25 April
Job Vacancies
PERSIAN MINISTRY DEVELOPMENT ENABLER
SHEFFIELD METHODIST DISTRICT AND YORKSHIRE NORTH & EAST DISTRICT
We are seeking a development enabler to lead and grow our established ministry with Persian Christians in Doncaster and Hull and emerging community in Sheffield.
As Methodists we are committed to being a growing, evangelistic, inclusive, justice-seeking church – so that new people become disciples of Jesus Christ, faith deepens for everyone, and diverse communities and churches experience transformation.
£30,784 plus contributory pension scheme. Standard terms and conditions apply for an ordained Methodist presbyter or deacon.
Closing date for applications: Saturday 24 April
See here for full details including how to apply
News from Outside Organisations
Taste Prayer Letter
I trust that this e-mail finds you well. I am delighted to update you with a Newsletter sharing with you what the Lord has been doing over the last few months. The attached also contacts an annual report the Lord did for us over the last year. I hope you will find much to encourage you and fuel your ongoing prayers.
Thank you for your faithfulness in praying for us please do continue to remember us, we can't do what we do without your prayers.
God Bless you
Ben Udejiofo
Chief Executive – TASTE