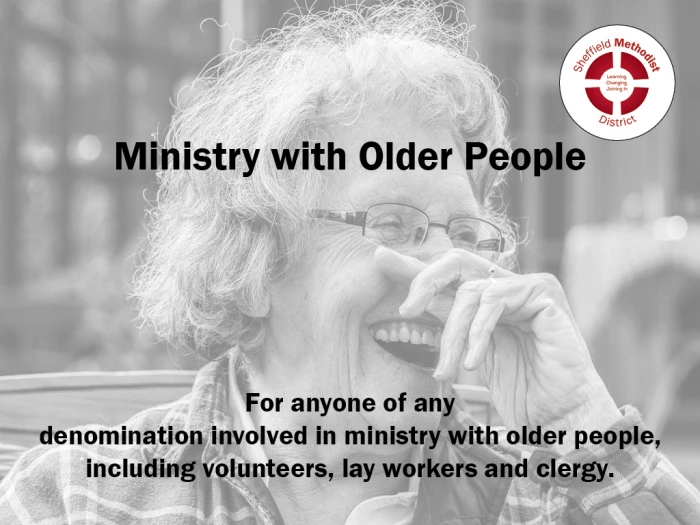 A community hosted by Sheffield Methodist District and open to anyone of any denomination involved in ministry with older people, including volunteers, lay workers and clergy.
We meet around four times per year (offering webinars and gathered events) to share experiences, ask questions, and explore new resources and approaches to support you in your ministry in your context.
In recent webinars we have benefitted from guest speakers including from Our Church at Home, MHA Communities, Anna Chaplaincy and Parish Nursing. Recordings of previous webinars are available below.
Over the coming year we will be concentrating on ministry with older people through a mission planning lens as we respond to a post-lockdown world. How do we keep our ministry with older people relevant? What are the most important things we could each be doing in our own contexts? Where does ministry with older people sit in our priorities as churches? How does it relate to our visions and values? Do we approach ministry with older people with the same mindset and purpose as ministry with the not so old?
We are looking for a couple of people engaged on the front line of ministry with older people to join our planning team. Please get in touch if you are interested.
For further information, to receive news of forthcoming events, or to suggest other topics you would like to discuss, contact Neil Harland: mission@sheffieldmethodist.org / 07483 308008
Events coming up soon
Online webinar
Making partnerships work
1 – 2:30pm Wednesday 18 May
Working in partnership with other organisations can enable your ministry with older people to achieve things you could not working alone, but can also bring new challenges. We will explore the pitfalls and positives of partnership working, and how to go about setting up a new partnership or improving an existing one.
Book here by 11 May to register your interest: https://220518-partnershipwork.eventbrite.co.uk