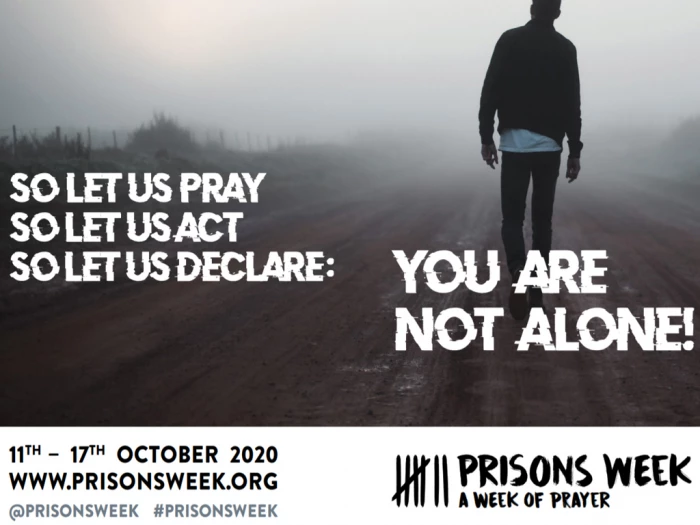 Prison Chaplaincy Week: 11-17th October
Hello everyone, my name is Jack and I'm the Free-Church chaplain at various prisons in South Yorkshire. You may or may not know that this week is Prisons Week, from the 11th to the 17th October. This week is a chance for the Church to reflect on and pray for all those who have been impacted by crime. To pray for the prisoners, that they may find a relationship with Jesus and live holy lives away from crime. To pray for the families of prisoners as their struggle with the separation. To pray for the victims of crime, both directly and indirectly. To pray for the staff who are working in prisons to bring rehabilitation.
I want to talk about three things. Firstly, what prison ministry entails. Secondly, how the coronavirus lockdown has impacted the prisoners over the past few months. Finally, what you at home can do during Prisons Week to respond to Jesus' call to be there for prisoners.
Very simply, prison ministry means providing religious support and pastoral care to prisoners. It's a direct response to what Jesus said in Matthew 25:36 'I needed clothes and you clothed me, I was sick and you looked after me, I was in prison and you came to visit me.' Prison ministry means being there for prisoners when no one else may be. It means being a friendly face that allows a brief break from the mundane prison life, in order to support them in an emotional and spiritual way.
Prison chaplaincy is an incredibly rewarding ministry. I have seen numerous prisoners baptised after coming to faith. I had a prisoner tell me that he stopped self-harming because of his new relationship with God. A prisoner was once so full of the presence of the Holy Spirit in a powerful and energetic way that he told me it was better than any drug he had every taken. I've lost count of how many Bibles I've given out, but it must be at least a hundred in the last couple of years. I've seen prisoners shed their old identity of criminal, and whatever it is they have identified as in the past, in order to gain a new identity as a child of God. I've seen prisoners dramatically improve with drug misuse because of the help of the Holy Spirit. Prison is one of the spiritually darkest places I have ever seen and will probably ever see again. Satan is hard at work there, but over and over again I see Jesus shining a light and bringing prisoners out of the pit, and bringing hope to people who have lost hope.
Prison ministry is no walk in the park though. I've had to deal with prisoners who think they're prophets or God. I frequently dwell on the burden that some prisoners will come to faith and then lose it shortly after. You see prisoners make strides in their walk with Jesus, and then suddenly temptation takes them back to being the person they were before. It's in these moments that I have to remind myself that faith is a journey, and that each one of these prisoners may simply not be ready to commit to Jesus yet.
Over the past few months the lockdown has been particularly hard for prisoners. Whereas they used to be able to get out of their cells, socialise, or work, they have had to be in their cells for 23 hours a day. That takes a toll on one's mental wellbeing. For many prisoners, their life has been on hold as probation workers have not been at work, meaning those eligible for parole have had a difficult time. Visits from families were also cancelled for some months, meaning they have lost out on those precious moments to see their loved ones. Hardest of all I think has been the prisoners who have had family members die since March, since they simply have not been able to go to the funerals of their own family members. Prison is already a difficult place for someone to survive in, without the added difficulty of the coronavirus making life harder for them.
Lockdown has however given many prisoners the opportunity to sit and think about who God is, and what it may mean to believe in Him. At the start of the lockdown I can remember a week where I had about three different prisoners tell me that they had just become a Christian. One of them told me that in the past week he had read the whole of the New Testament which led to him converting from Islam to Christianity.
Recently, I've had a prisoner who has been seeking Jesus and writes down a big list of questions about things he reads in the Bible and Christian resources. Every time I see him he is so keen to learn as much as he can. A few months ago I also had another prisoner who had been reading a Bible and was so excited to discover Jesus for the first time. Every time I saw him and spoke to him you could see the happiness in his eyes about how he could read the Bible and pray. The lockdown has been hard for everyone, but I've very grateful for what God has been doing behind the scenes during this time.
What can each of us do though to respond to Jesus' call to be there for those in prison? Firstly, if you feel God may be calling you now to go into prisons, I'd encourage you to look for your nearest prison, and ask if you can volunteer as a chaplain. Chaplaincy teams are always needing volunteers to help out. But even if you don't feel the call to go into prisons, there are certainly other ways in which you can help.
Firstly, pray. Pray for prisoners in this country and around the world that they seek Jesus and change their lives. Pray also for the victims of crimes, that they may find peace and the ability to forgive. Please also do pray for prison chaplains. I think I can speak for all of us when I say that it can be a very demanding job, and it can drain us very quickly to pastorally care for hundreds of prisoners.
Secondly, sign up your church to the Welcome Directory. The Welcome Directory is an organisation that allows churches to sign up in order to say 'we'd love to welcome ex-offenders to our community'. This is such an important resource for chaplains, because their website shows a map of all the churches in the country that have signed up, and so when a prisoner tells me they're being released to a certain area, I can see churches in that area that are willing to welcome them. So please encourage your ministers and superintendents to sign up your churches. There are currently no churches signed up in places like Sheffield, Doncaster, Chesterfield, and the Peak District, so please sign up to that. The website is www.welcomedirectory.org.uk.
Thirdly, please consider donating to several charities that contribute to prison ministry. Gideons give prisons free Bibles to give to the prisoners. Junction 42 have been providing Christian activity packs for prisoners to keep busy and grow in their faith during lockdown. The Prison fellowship do various programmes to support prisoners in seeking restorative justice. As mentioned, the Welcome Directory are a very valuable resource. Supporting these organisations helps the prisoners massively by ensuring that they have access to resources on Christianity. So please consider supporting them.
On the Prisons Week website there is a downloadable document that has a short prayer for each day this week, and I want to finish off by us praying this first day of prayer together. Let's pray.
Lord, you offer freedom to all people. We pray for those in prison. Break the bonds of fear and isolation that exist. Support with your love prisoners and their families and friends, prison staff and all who care. Heal those who have been wounded by the actions of others, especially the victims of crime. Help us to forgive one another, to act justly, love mercy and walk humbly together with Christ in his strength and in his Spirit, now and every day. Amen.